Sony's new product the Sony Vaio Duo 11 features a design that is a throwback to the Asus Eee Pad Slider, an Android tablet that features a sturdily hinged slide-out keyboard. Though there are similarity in the design of both products, the Sony Vaio Duo 11 is a different breed altogether as it is intended for higher degree of productivity use rather than consumption use only.
Powered by an Intel Core processor, the new Sony Vaio Duo 11 is a high-performance, hybrid Ultrabook with a sliding LCD display that switches effortlessly between slate and keyboard mode. It comes equipped with the new Windows 8 operating system and allows high-precision writing with a digitizer stylus, allowing you to consume and create exciting and entertaining digital content.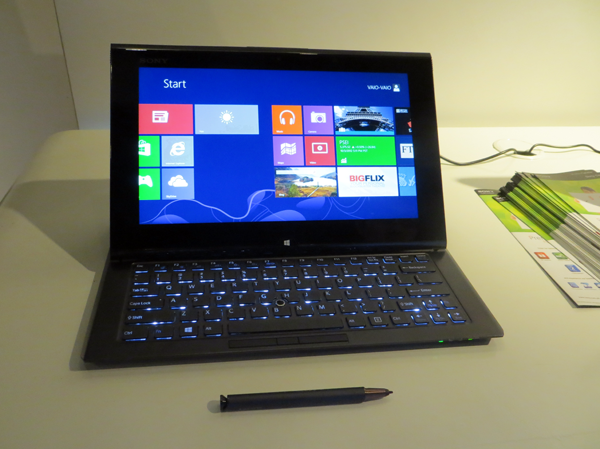 The Sony Vaio Duo 11 features a sliding LCD display with the new "Surf Slider" design by Sony. Slide into keyboard mode when you need to use the keyboard to work on documents and turn it into slate mode to comfortably browse the Internet, SNS (social networking service) or Windows Apps.
Boasting of 8 hours battery life (for a Windows device, this is a welcome development), it is remarkably slim and light as well, measuring just 17.85mm and weighs approximately 1.3kg.


The multi-touch/gesture LCD is further enhanced by a stunningly sharp 1920×1080 11.6" OptiContrast Panel that not only reproduces vivid and accurate colours that is essential for any graphic intensive work, but also affords users with the flexibility of wide viewing angles.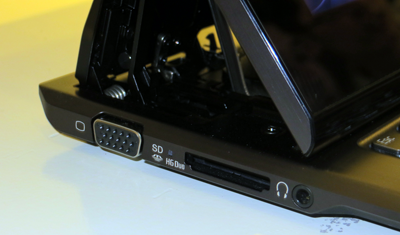 With its digitizer stylus, Sony Vaio Duo 11 allows for more natural writing experience with the screen intelligently ignoring palm presses while writing, preventing distracting scribbles.
Apps such as "Note Anytime for VAIO" turn the Sony Vaio Duo 11 into a virtual notebook for easy on-the-fly note taking, while Active Clip allows users to snip out or select parts of an image and save them to a fully shareable scrapbook.


During presentations, the digital stylus can also be used to write notes and comments directly onto the PowerPoint document when in slideshow mode for unprecedented interactivity.
Apart from productivity use, the Sony Vaio Duo 11 is also positioned for multimedia use/experience.
The Music application lets you enjoy your music collection with superb quality thanks to xLoud and ClearPhase technologies, while the Album application makes viewing, sorting or sharing pictures and videos exciting and intuitive. Both applications lets you "throw" or stream personal photos, video and music content to enjoy on DLNA compatible large screen TV and audio systems.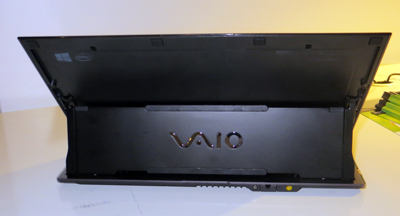 Users can also download the Socialife app, an application that organizes your social and information world. This feature is perfect for Facebook users to view, sort and manage all social networking services and news feeds through one stylish user interface, alongside your friends' feeds and posts.
With this app, you can also mark interesting articles for later reading when you're not so busy. Based on what your friends are reading, Socialife also points you to other popular topics and even suggests content that you might like. Keeping track of everyone becomes more convenient.
The new Sony Vaio Duo 11 will be available in the Philippines by end of October.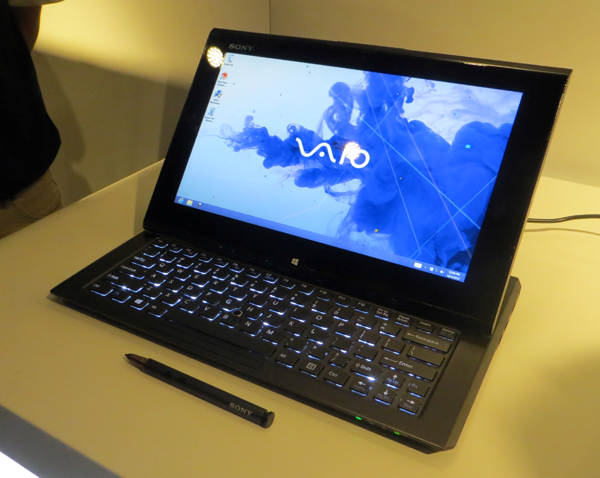 Specifications Sheet
Model VAIOTM Duo
Processor Intel® Core™ i5-3317U Processor
Operating System Windows 8
Memory 4GB
Drive 128GB
Screen 29.4cm (11.6") OptiContrast™ Panel;
Full HD (1920×1080) with wide (16:9) aspect ratio; capacitive touchscreen
*"OptiContrast" is a trademark of Sony Corporation
Graphics Intel® HD Graphics 4000
Others WLAN 802.11a/b/g/n; Bluetooth® Ver. 4.0 + HS; Ethernet (1000BASE-T/100BASE-TX/10BASE-T x 1); USB 3.0 (x1), USB 3.0 with USB charge (x1); VGA out; HDMI out; Memory Stick Duo / SD memory card combined slot; stereo speakers with xLOUD™ ; Full HD Web Cameras (x2, front and rear facing) powered by 'Exmor for PC' (2.07 megapixels); Sensors (NFC, GPS, Accelerometer, Gyro, Digital Compass); Windows button; rotation lock button; digitizer stylus; extended battery pack (optional accessory)
Dimensions (DxHxW) Approx. 320 mm x 17.85 mm x 199 mm
Weight Approx. 1.3kg (with standard supplied battery)
Battery Life VGP-BPS31 Lithium-ion battery: up to 4.5 hours of use*8