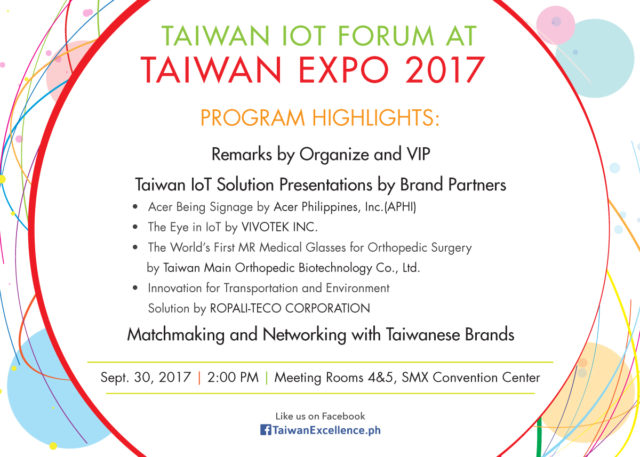 Several years ago, the Internet of Things or IoT was a mere concept moving to reality–the subject of key talks by companies in large tech events that forecast a future looking more and more like sci-fi.
Today, however, the progress in IoT solutions will be experienced by Filipinos in the upcoming Taiwan Internet of Things (IoT) Solutions for Smart Living Forum, taking place at the SMX Convention Center in Pasay City on September 30.
Sponsored by the Taiwan Bureau of Foreign Trade, Ministry of Economic Affairs and organized by the Taiwan External Trade Development Council (TAITRA), the Forum will be brought to life by representatives from some of Taiwan's best tech brands speaking about cutting edge devices whose IoT solutions can redefine workflows and processes in various industries.
The Taiwanese brand VIVOTEK will showcase its latest stereo network camera – the SC8131, which generates data by tracking numbers of people and their flow paths.
Business owners can leverage this information for operational decisions such as improving store layouts and product promotions. Another application refining smart retail is the Acer Being Signage. This aids retailers in the entire digital marketing process, from consultation to operation. It also provides software that uses a cloud-based video analytics solution for creating, delivering, and monitoring digital campaigns.
Using mixed reality technology and calculation camera image positioning technology, the Taiwan Main Orthopaedic Biotechnology Co. Ltd. has created precursory medical glasses that enhance accuracy and shorten surgery time for the medical industry. They will talk about their hi-tech wearable glasses designed to enhance surgeons' performance and simplify orthopedic procedures. This technology will become a key tool for significant advances in surgery.
IoT is not limited to this as the Ropali-Teco Corporation will highlight advances that provide Filipinos access to electronic vehicles, and enhance user experience by customizing local tricycles and jeepneys with their safety, efficiency, and ecological features. The electronic vehicles utilize a 2.3 kilowatt electric motor and have a 20% climbing capacity for sloping paths. This is a good start for public vehicles to decrease fuel consumption and create safer travel for passengers.
Learn more about these technological advancements and many other treats and join Taiwan's best tech brands in creating a smarter future at the Taiwan IoT Solutions for Smart Living Forum at the SMX Convention Center on September 30.
IoT refers to a giant network of connected things that have an on and off switch to the Internet. It is predicted to revolutionize businesses, governments, and consumers and how they interact with the physical world as we know it today.