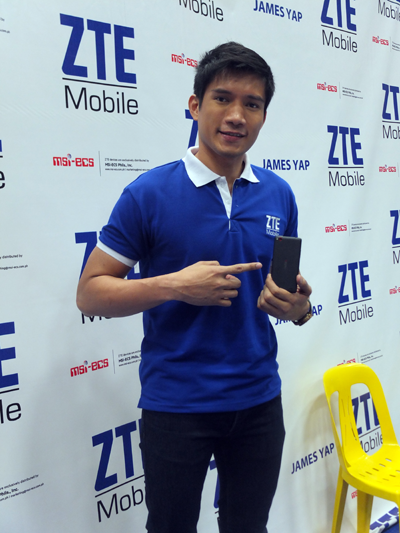 Filipino cager James Yap, who recently snagged the MVP Award in the recently concluded Governor's Cup PBA, is the new face of ZTE Mobile here in the Philippines.
This is the first time that ZTE Mobile, which has been selling phones in the country for more than two years, got a popular personality to endorse its smartphones in the Philippines. According to Jimmy Go, president and CEO of MSI-ECS,  Yap's popularity will greatly help increase brand awareness for ZTE Mobile in the country and put forward its latest devices, particularly the Nubia Z5S mini and the Blade smartphones.
Yap said he believes in the ZTE brand and the quality of its smartphones. In fact, he enjoys many features of the ZTE smartphone, particularly the high megapixel front and rear cameras,  the large high definition display, and the power it offers.
"I love taking selfies. When I tried the ZTE phone for selfies, I am impressed at the quality of the photographs taken by the phone," says Yap. "I'm very happy with this phone." Yap adds he made a great deal of research about the brand before accepting ZTE Mobile's offer.
Of late, ZTE has been focusing on basketball personalities as endorsers of its products. Apart from Yap, ZTE Mobile even has Houston Rockets as brand ambassadors.
Go said basketball personalities are well liked by Filipinos, who love the basketball game more than any other sports. It's really ideal to get Yap as brand ambassador, according to Go.
Go said ZTE Mobile will be active in promoting the brand and new products in the coming months.
Apart from the Yap's announcement as ZTE Mobile endorser, the company also introduced a premium affordable line Nubia Series. The Nubia smartphones features large full HD displays, octa core processors, high megapixel front and rear cameras, as well as a user interface and camera apps to enhance the features of the Android operating system.
Nubia Z5 S mini specs:
Processor: Quad Core
OS: Android 4.3 Jellybean
Display: 4.7″ HD
Camera (rear + front): 13 MP with autofocus and 5 MP with fixed focus
Battery: 2000 mAh
Color: Black/White
SIM: Single