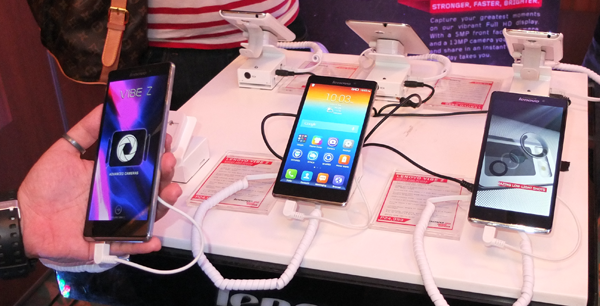 If there's one thing Lenovo is serious about, it's definitely the expansion of its mobile business in the Philippines. The China tech behemoth recently released the Lenovo Vibe Z, a 5.5 inch LTE smartphone that features Qualcomm Snapdragon quad core processor and great camera features.
Retailing for P24,999, the Lenovo Vibe Z is a razor-thin smartphone made from premium materials such as titanium and intended for the high-end market.
As Lenovo's first smartphone featuring LTE capabilities, the Vibe Z features super-fast data upload up to 50 Mbit/s1 and downloading up to 150 Mbit/s1.
The Vibe Z operates on GSM/UMTS networks up to 2100 and also comes with 802.11ac WiFi and Bluetooth 4.0.
Lenovo has consciously made the Vibe Z look attractive and premium. It comes encased in a thin 7.9mm titanium body and weighs just 147 grams.
Users will appreciate its laser-etched, fabric-feel rear cover that is comfortable to hold.
It features 5.5-in full high definition (1920×1080) IPS wide angle viewing touchscreen display.
Images appear pin sharp leveraging the Vibe Z's 20/20 Vision display with a pixel density of 400 pixels per inch.
It is loaded with 2 GB of memory, up to 16 GB of internal storage and running Android 4.3.
Notable feature too is its huge capacity 3000mAH battery, which offers up to 33 hours of talk time and 27 days standby power.


Similar to other high-end smartphones, the Vibe Z features custom imaging software and high resolution cameras.
It has a 13 MP rear camera with a large f1.8 aperture lens (ideal for low light scenes) and a 5 MP front camera that's equipped with an 84° lens for wide-angle shots.
Lenovo's Super Camera and Super Gallery apps let users add fun effects to their photos easily. Vibe Z also offers Lenovo-specific software supporting motion and gestures for better one-handed usage on large screen device.
"Lenovo continues to innovate to bring new and exciting products such as the Lenovo Vibe Z, which won Laptop Mag's Best Smartphone award at the recent CES, to the market in order to achieve our ultimate goal of becoming the leader in the PC Plus era. Our latest premium smartphone is elegantly designed and boasts high performance and custom software to ensure that users can truly have the best smartphone experience now at the speed of LTE," said Michael Ngan, Country General Manager, Lenovo Philippines, during the official launch of the smartphone.