Lenovo has beefed up its A Series line up with the addition of Lenovo A1000 and A2010 smartphones.
The new affordable smartphones target students and young professional looking to buy their first smartphone.
With the launch of the Lenovo A1000 and A2010, Lenovo assures consumers that even though the new smartphones are priced within reach, it doesn't mean they don't get the quality.
"With the launch of the Lenovo A1000 and A2010 smartphones, Lenovo continues to live up to our VIBE ON promise of delivering smartphones with the latest technology and features that millennials care about at a price they wouldn't expect. With the latest Android OS versions, quad-core processors, dual SIM support and ample storage space, these devices offer a great first-time experience that users will never forget" said Dino Romano, Country Manager, Lenovo Smartphone Philippines said.
The Lenovo A2010 is perfect for the first-time smartphone users who are looking to future-proof their purchase as it comes equipped with the Android™ 5.1 Lollipop and 4G LTE data speed. With a 64-bit quad core processing power and a complementary 1GB RAM, it allows users to check and send emails and upload files, take photos with its 5MP fixed-focus with LED flash rear camera and 2MP fixed-focus front camera as well as browse their various social media accounts with ease.
In addition, the A2010 offers a lot of storage for photos, videos and music with its 8GB ROM and up to 32GB expandable storage via microSD. Young professionals will appreciate the convenience of dual SIM support so they can have one number for work and another number for personal consumption. At 9.95mm thin and 137g light, this 4.5" device is designed to provide one-handed comfort. Lastly, its 2000mAh battery is big enough to last a full day of texting, browsing, photography, music listening, video watching and calling. With the Lenovo A2010, users can enjoy the latest technology without putting their wallet at risk.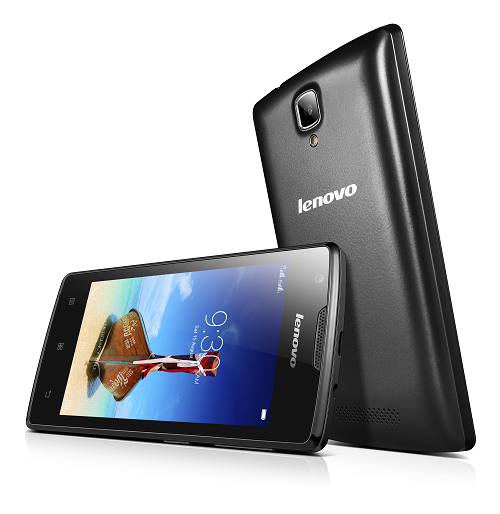 For those who are planning to move up from a feature phone to a touchscreen smartphone, the Lenovo A1000 is a budget-friendly way to place the Android OS experience at their fingertips. Users can snap photos with its 5MP rear and 0.3MP selfie camera and share their fun filled moments on various social media platforms on a 4.0" smartphone device that comes with the latest Android™ 5.0 Lollipop, 1.3GHz quad-core processor and 1GB RAM plus expandable storage space of up to 32GB.
It has dual SIM support and can conveniently fit in any purse or pocket as it is only 10.6mm thin and weighs only 134 grams. With a 2000mAh battery, it can keep the user going all day, making it the perfect companion for work and play.
Pricing and Availability
The Lenovo A2010 and A1000 are available in pearl white and onyx black and can now be purchased at Lenovo Mobile Exclusive Stores nationwide or at any authorized Lenovo resellers for only Php4,999 and Php3,699 respectively.