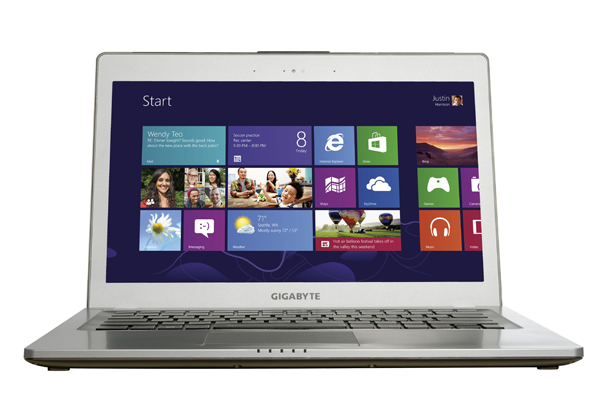 GIGABYTE has launched the 14-inch Ultra performance Notebook the Gigabyte U2442N. The Gigabyte U2442 has an elegant shuttle streamline design with a sleek form factor that is just 1.57kg and thinness measuring from 18.5-21mm.
It is powered by 3rd generation Intel Core processors and NVIDIA GeForce GT 640M discrete graphics reaching 3DMark Vantage at 9,587 points.
The Gigabyte U2442 has a dual air vent design (one for CPU and one for GPU) that efficiently eliminates heat and keeps noise to a minimum.
Despite the powerful features and thin form factor, the unique venting system is able to effectively keep the notebook from overheating. It also boasts an automatic light sensing backlit keyboard. This excellent feature adjusts the light to external conditions and allows getting work done even under low light conditions.
The Gigabyte U2442 also provides an awesome audio and multimedia experience with a fantastic HD+ 1600×900 display and THX TruStudio Pro audio technology.
THX TruStudio Pro is a groundbreaking audio technology that equips the U2442 with outstanding performance by effectively eliminating sound distortion, enhancing volume and reinforcing even the smallest details of the sound.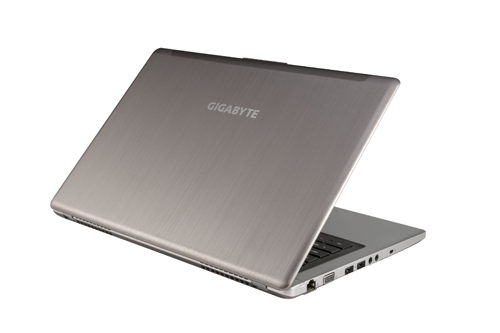 Users can also enjoy 3D/Full HD Entertainment on the notebook using HDMI 1.4 on external displays.
Connected to an external display, the Gigabyte U2442 enables a home entertainment center, where the user can play the latest multimedia and enjoy it in stunning full HD quality on a large external screen. It also supports several stereoscopic 3D formats as a standard output and can be used for 3D enjoyment.

The innovative quick battery status check allows checking how much battery power is remaining when the notebook is not powered on. Simply click on the right mouse button and the LED lights will light up to indicate how much battery power is remaining.