BlackBerry Classic, the new mid-range priced smartphone from the Canadian smartphone manufacturer, was launched in the Philippines recently, and it carries a suggested retail price of Php20,990.
Unlike the square-shaped BlackBerry Passport launched two months ago, the BlackBerry Classic follows the design of the older model BlackBerry 9900 with its curved corners, QWERTY keyboard, touchscreen, trackpad, steel frame and everything, except for improvements in software and minimal cosmetic changes.
Positioned as a go-to productivity tool that ensures security, the BlackBerry Classic runs on the updated BlackBerry 10 OS 10.31.
"BlackBerry Classic delivers the unique combination of our BlackBerry QWERTY keyboard, physical buttons and a trackpad to aid navigation and control – all powered by the updated BlackBerry 10 OS 10.3.1. The resulting user experience will make BlackBerry Classic a go-to productivity tool for customers here in the Philippines," said Cameron Vernest, Managing Director for the Philippines and Singapore at BlackBerry. "BlackBerry Classic is a secure device that feels familiar in their hands, with the added performance and agility they need to be competitive in today's busy world."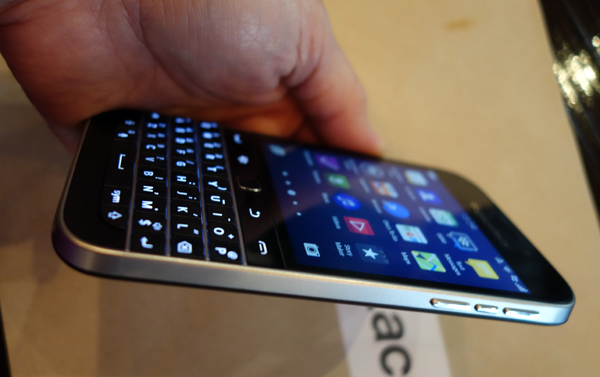 During the BlackBerry Classic launch, the company also announced its partnership with MemoXpress, which will start selling the BlackBerry Classic on February 5. MemoXpress has 22 retail locations across major cities and municipalities in the Philippines .
BlackBerry Classic prominent upgrades versus the BlackBerry Bold 9900:
• Three times faster browser
• 60 percent more screen space
• 50 percent longer battery life
• Greater variety of applications through BlackBerry World and the Amazon Appstore
Top features of the BlackBerry Classic that drive productivity, communications and collaboration:
• BlackBerry® Keyboard& Trackpad – Crafted for optimal speed and accuracy, the BlackBerry Classic's QWERTY keyboard gives users the control and confidence to communicate quickly and clearly using one hand with a trackpad and classic navigation keys.
• BlackBerry® Browser –The BlackBerry 10 web browser is amazingly fast and astoundingly beautiful.
• Screen & Battery – The BlackBerry Classic offers a form factor optimized for power communicators with a 3.5-inch touch screen display, 294 dpi HD resolution and Corning® Gorilla® Glass 3 for greater durability. The BlackBerry Classic also offers a large battery capacity and state-of-the-art battery optimization software. Battery life is up to 22 hours.
• Premium Components – The device is built with durable materials mixed with top-of-the-line technology. This includes a 1.5 GHz Qualcomm Snapdragon Processor, 2GB RAM, 16GB of device storage (expandable by up to 128GB via SD), and a 2MP front- and 8MP rear-facing camera with enhanced optics and upgraded imaging sensors.
• BlackBerry® 10 OS 10.3.1 – The BlackBerry Classic comes preloaded with the BlackBerry 10.3.1 operating system, offering a fresh look that incorporates updated icons and an instant action bar so that each user's most commonly accessed functions are in the center of their screen. With this new operating system, users gain access to powerful features, including:
o BlackBerry® Blend – BlackBerry Blend brings messaging and content that is on your BlackBerry smartphone to your computer and tablet. Get instant message notifications, read and respond to your work and personal email, BBM™ and text messages, and access your documents, calendar, contacts and media in real time on whatever device you are on, powered by your BlackBerry.
o BlackBerry® Assistant – The BlackBerry Assistant is BlackBerry's first digital assistant and can be used with voice and text commands to help users manage work and personal email, contacts, calendar and other native BlackBerry 10 applications.
o Dual app storefronts for a wealth of professional and popular apps:
–BlackBerry World – BlackBerry World showcases essential productivity apps for business professionals looking to drive efficient communications and collaboration.
–Amazon Appstore – Preloaded on BlackBerry Classic, users can access popular Android apps and games through the Amazon Appstore including Candy Crush Saga, Pinterest, Kindle for Android and Cut the Rope 2. Users can also scan Android apps for malware and privacy issues prior to installation using BlackBerry Guardian.
• BlackBerry® Hub – The one place to manage all your conversations – email, texts, BBM, phone calls, social media and more. You can even glance at what's next in your calendar. It's always available with a single swipe to help you stay organized, in control and on top of all your conversations.