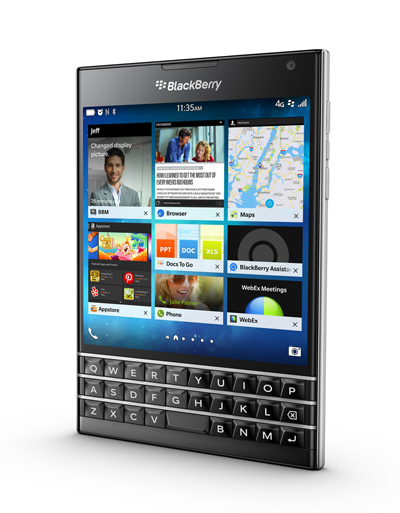 Blackberry recently introduced the BlackBerry Passport, a new smartphone that features a square touch screen and QWERTY touch-enabled keyboard.
The BlackBerry Passport, which is now available through authorized resellers, carries a suggested retail price of Php35,790.
With a design inspired by a real passport, the BlackBerry Passport runs BlackBerry's latest 10.3 OS. It is aimed at mobile professionals as it allow users to elevate their productivity and collaborate more effectively, according to BlackBerry officials.
It features premium, robust materials such as Corning Gorilla Glass 3 for the display and forged stainless steel for added strength, BlackBerry Passport will provide the durability business professionals require in a smartphone.
The BlackBerry Passport includes the industry's first touch-enabled keyboard with gestures that make typing, editing, and navigating more efficient and accurate. BlackBerry's physical QWERTY keyboards have always made it easier for users to create polished, professional communications with exceptional accuracy.
The device comes preloaded with new productivity-enhancing features including BlackBerry Blend and BlackBerry Assistant, as well as the BlackBerry World storefront and Amazon Appstore, offering access to the very best apps for work and play.
BlackBerry Passport features:
Large High-Resolution Square Screen – The BlackBerry Passport includes a 4.5" square screen with a 1:1 aspect ratio, 1440×1440 pixel (453 dpi) HD display and Corning® Gorilla Glass 3 for added strength.
Innovative BlackBerry Keyboard – The BlackBerry Passport's revolutionary new keyboard brings innovation to input with a responsive touch surface like a trackpad that lets you perform many touch functions directly on the keyboard. You can scroll web pages, flick to type or slide along the keys to move the cursor, leaving the full screen space for viewing.
BlackBerry 10 OS 10.3 – The BlackBerry Passport comes preloaded with the new BlackBerry 10.3 operating system, including new features such as BlackBerry Assistant, BlackBerry Blend and Amazon Appstore. It has a fresh look that incorporates updated icons and an instant action bar so that each user's most commonly accessed functions are in the center of their screen.
Best-in-Class Battery Life – At 3450 mAh, the BlackBerry Passport battery accounts for up to 30 hours of mixed use.*
Dual App Storefronts for a Wealth of Professional and Popular Apps
BlackBerry World – BlackBerry World showcases essential productivity apps for business professionals looking to drive efficient communications and collaboration.
Amazon Appstore – Preloaded on BlackBerry Passport, users can access popular consumer apps through the Amazon Appstore, including the latest Android games and apps, such as Minecraft – Pocket Edition, Candy Crush Saga, Pinterest, Temple Run 2 and Cut the Rope 2.
BlackBerry Assistant – The BlackBerry Assistant is BlackBerry's first digital assistant and can be used with voice and text commands to help users manage work and personal email, contacts, calendar and other native BlackBerry 10 applications.
Premium Components – The device is built for the most demanding user using durable materials mixed with top-of-the-line technology, including a Quad Core 2.2 GHZ Processor, 3 GB RAM, 13 MP OIS rear camera and 32 GB memory.
BlackBerry Natural Sound – BlackBerry Passport comes with powerful speakers and a quad microphone system that delivers a high-quality listening experience. BlackBerry® Natural Sound Technology is built in to adapt Wi-Fi and cellular call sound depending upon phone position and background noise, automatically adjusting volume so you don't have to.
For more information about BlackBerry Passport, visit www.BlackBerry.com/Passport.