The Nokia brand, now under HMD Global, unveiled its anticipated Android-run flagship smartphone Nokia 8, along with three smartphones, also running on the latest Android Nougat.
As a flagship handset, the Nokia 8, which sports a 5.3-inch screen, features the first-ever "Dual-Sight" camera, a key attribute that allows users to take a photo, record a scene, or livestream an event with both the front and rear cameras working simultaneously. So the face of the user and subject being photographed or video recorded is both seen in the split screen.
Nokia 8's 13-megapixel rear camera features two sensors–monochromatic and color. It has laser focusing and image stabilization features as well.
"In today's battle of the megapixels, it is no longer about the size but what the camera can do. The most important thing is the technology we bring in here. We're introducing Dual Sight, the ability to actually take a photo, video, or even stream with both cameras at once," says Shannon Mead, country manager, Philippines HMD Global.
The Dual Sight feature of Nokia 8 will benefit video bloggers, journalists, and broadcast media practitioners who now can present two sides of the story, adds Mead.
During the launch of Nokia 8, the company also announced a new campaign slogan "#Unite For" that takes to a new meaningful level Nokia's commitment to consumers.
"For HMD Global, we affirm that the core of Nokia brand is to provide mobile communication technology  that is accessible to everybody. This is the rationale behind the campaign slogan #Unite For What You Believe In. This resonates the passions that we have inside. This can be unite for peace, unite for gender equality, women rights, unite for peace. We believe our higher purpose is no longer connecting people but uniting people. We acknowledge the role of technology in making a strong difference," says Kiko Torno, HMD Global Head of Marketing for the Philippines.
With the entry of entry of Nokia 8 into the country, along with other Nokia phone models Nokia 3, Nokia 5, and Nokia 6, the smartphone brand that once ruled the mobile market back in the day has set its eyes on growing its smartphone business in the Philippines.
"The Philippines has always been a strong market for Nokia. Filipinos, particularly those in the provinces, have a strong affinity for Nokia phones, which have always delivered on quality, reliability and innovation. We want to continue broadening and deepening our reach here, especially in untapped provinces that need high-quality mobile communication technologies," says Mead.
HMD Global, the new home of Nokia phones, is looking to position Nokia as the go-to smartphone for Filipinos across the different market segments. "Nokia will continue to leverage quality and innovation to serve the thriving smartphone market," Mead shares.
Aside from Dual Sight, Nokia 8 includes the following features that makes it a flagship device:
It pioneers the use of OZO audio to deliver immersive 360-degree spatial surround sound. Users can zoom in or amplify on a particular sound. This high-fidelity playback complements 4K videos and brings Hollywood technology in mobile technology.
The Qualcomm Snapdragon 835-powered phone features a seamless unibody with a full-length graphite shielded copper cooling pipe for better heat dissipation, especially when running demanding applications.
The Nokia 8, which retails for P29,990, already runs on Android Nougat 7.1.1 (upgradeable to Oreo) and comes in single- and dual-SIM variants.
Priced much lower than the flagship, Nokia's other Android smartphones are intended for the mid-range and affordable smartphone market.
With an SRP of P6,990, the Nokia 3 already comes in a precision-machine aluminum frame to ensure a strong build unheard of in the affordable smartphone segment. It features a 5-inch Gorilla Glass HD screen and 8MP cameras. LTE 4G connectivity allows fast download and streaming, supported by 16GB of internal storage. A microSD card slot allows up to 128GB capacity.
The Nokia 5, which packs a Qualcomm Snapdragon 430 octa-core processor, has 2GB RAM and 16GB storage expandable to 128GB. It features a 13MP camera with dual-tone flash and a 5.2-inch HD screen. A fingerprint sensor provides extra security and convenience. Its SRP is P9,990.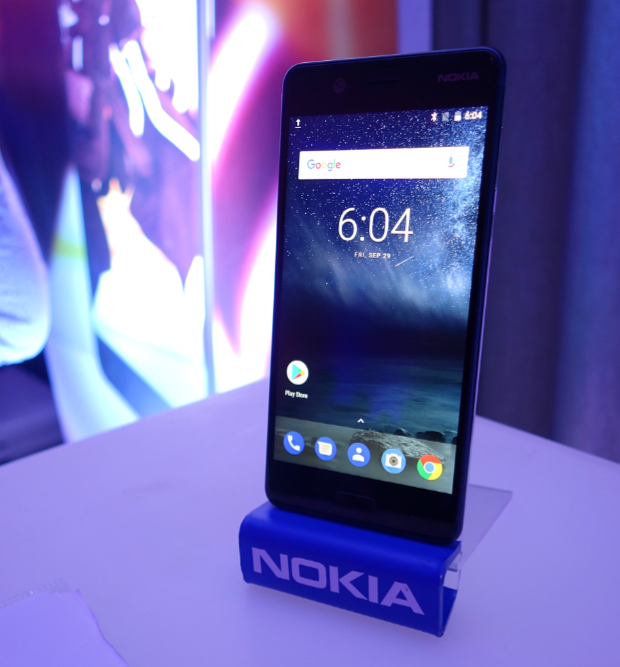 Nokia 6 is powered by an octa core processor and has a 5.5-inch full-HD in-cell hybrid display with a wide viewing angle and wide color reproduction for a fully immersive entertainment. This is complemented by dual speakers with Dolby Atmos and a smart amplifier. It has a 16MP main and an 8MP front cameras and 32GB internal storage capacity.  Nokia 6 carries an SRP of P11,990.