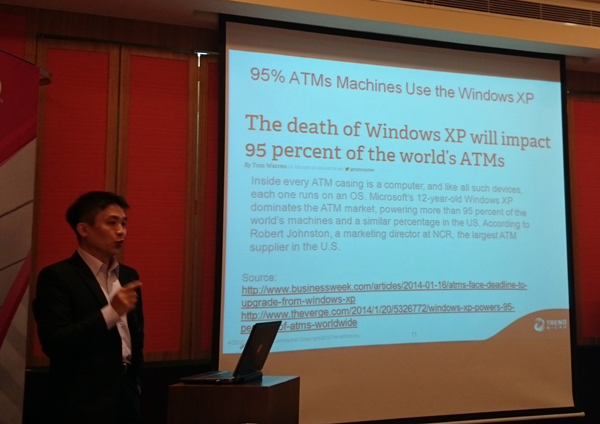 Global security software company Trend Micro has announced major upgrades to its product Trend Micro Complete User Protection Solution.
Trend Micro also highlighted one key provision bundled with the solution, which includes virtual patching for platforms or operating systems whose support already ended from their vendors.
Trend Micro's virtual patching will work for the unsupported OSes and apps like Solaris 8, Redhat 3, Oracle 10.1 and Windows 2000. It will also benefit machines running Windows XP, whose support ended recently. Microsoft's 12-year-old OS sits inside more than 95 percent of the world's ATM machines.
The virtual patching is particularly recommended for "untouchable" systems like ATM kiosks, point of sale, medical equipment and mission critical servers, according to David Ng, regional product marketing manager, cloud and data center security at Trend Micro.
Critical "software flaw" vulnerabilities are on the rise and Trend Micro offers solutions to companies to address the problem through Trend Micro's complete solution, said Ng.
"Trend Micro still continues to protect Windows XP machines to extend the period for companies to finally migrate to a new supported OS, said Ng.
Trend Micro developed enhancements into its main product to meet the growing demands for greater protection against next-gen threats and flexibility of delopyment, management and pricing.
Improvements include PC and mobile endpoints, email and collaboration, and Web security to enable integrated visibility and threat response.
With "mix-and-match" support for cloud, hybrid and on-premise deployments, the solution updates are ideal for enterprises and mid-size businesses moving to the cloud.
New enhancements to the Trend Micro Complete User Protection solution include:
Application control enables category-based whitelisting and PC endpoint lockdown as an additional layer of protection against advanced malware and targeted attacks that evade signature-based defense
Browser exploit detection protects against attacks directed at unpatched browser vulnerabilities
Cloud-based secure Web gateway deployment as an alternative or complement to Trend Micro's existing on-premise Web gateway
Improved endpoint encryption includes pre-boot authentication and management for Windows Bitlocker and MacOS FileVault native disk encryption
User-centric visibility of the updated Trend Micro Control Manager central console, for better investigation and threat response, including dashboard status of incidents and compliance, and visibility across PC, Mac and mobile endpoints
Refreshed vulnerability protection capabilities that proactively protect against exploits directed at operating system and application vulnerabilities until patches can be deployed
Expanded hosted email security for inbound and outbound protection of Microsoft Office365 deployments