The Crossblade Ranger is the first AMD FM2+ motherboard to carry ASUS Republic of Gamers (ROG) brand and it is packed with exclusive ROG technologies and game-boosting features. It will be available mid-September and will have an SRP of PhP 8,990.00.
The new AMD motherboard Crossblade Ranger from ASUS, which is also known to produce powerful PCs and technologies for gaming, can deliver the best gaming networking courtesy of the following features:
Gaming networking
Crossblade Ranger is fitted with state-of-the-art Intel Gigabit Ethernet that delivers better throughput with lower processing power for superior speed and increased efficiency.
The new motherboard's networking capabilities additionally benefit from ROG-exclusive GameFirst III technology for no-delay gameplay. This advanced network-optimization software assigns top priority to game-data packets, allocating them more bandwidth to ensure the best online-gaming experience and clear, stutter-free online team-chat — all controlled with ROG's usual intuitive flair.
ROG has even reinvented the RJ45 socket, with LANGuard technology. Advanced signal-coupling technology and premium surface-mounted capacitors improve throughput, while surge-protected and electrostatically-guarded components (ESD Guards) protect against lightning strikes and static-electricity discharges.
Gaming audio
Flawless audio is essential for immersive gaming, so Crossblade Ranger is engineered with SupremeFX 2014. Cutting-edge isolation technologies minimize electromagnetic interference (EMI), while premium ELNA audio capacitors and eight-channel gold-plated audio outputs provide precision-engineered audio that's as great as a dedicated soundcard.
SupremeFX 2014 also features exclusive Sonic SenseAmp and Sonic SoundStage technologies. Sonic SenseAmp automatically detects analog-audio front-panel (AAFP) headphone impedance and adjusts the built-in amp accordingly, while Sonic SoundStage applies the best audio settings for popular game genres — just one click is all it takes to generate the perfect sound for first-person shooter (FPS), racing, combat and sports games.
Crossblade Ranger's gaming-audio credentials include Sonic Radar II technology. Designed for first-person shooters (FPS), Sonic Radar II displays a stealthy overlay that shows what opponents and teammates are up to. Players see the precise direction and origin of in-game sounds such as gunshots, footsteps and call-outs, enabling them to hone enemy-pinpointing skills. Exclusive audio enhancement further improves in-game sound for superb hearing awareness, and the all-new Sonic Radar II includes a redesigned control panel with customizable game list.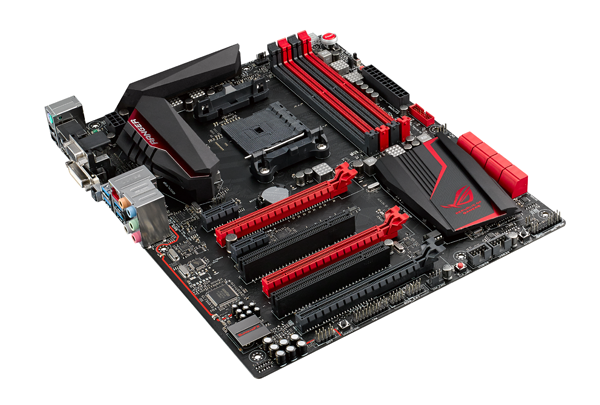 Gaming interface
Crossblade Ranger includes KeyBot, a clever tool that lets users instantly 'upgrade' an existing keyboard simply by attaching it to the dedicated USB socket.
Once connected, the KeyBot microprocessor is activated and the user is able to use their current keyboard to control multimedia playback, launch favorite applications or assign macros to specific keys — just perfect for automating complicated in-game key sequences.
Gaming performance
ROG's Auto Tuning technology enables Crossblade Ranger to unleash the true power of AMD APUs with just few clicks. Enabled by the TurboV Processing Unit (TPU), Auto Tuning adjusts the CPU frequencies and ratios to offer precise voltage control and advanced CPU-performance monitoring, efficiently enhancing system performance with the most stable overclocking profile — so gamers enjoy superb stability and high speeds while playing.
Crossblade Ranger is also compatible with ROG's brilliant Front Base dual-bay gaming panel. When added to Crossblade Ranger, Front Base enables one-click performance boosting and real-time system monitoring to make gaming experiences even more enjoyable.
Crossblade Ranger even comes with a ROG mouse mat completely free of charge. The plush feel and stylish design enables gamers to flaunt the awesome power of Crossblade Ranger.