Telco giant Smart has announced the availability of Smart LTE Prepaid SIM for mobile phones, a move that will encourage its millions of prepaid subscribers who are on 3G network and the wider segment of the market to shift to LTE to enjoy fast Internet on-the-go.
The new Smart LTE Prepaid SIM for 4G-capable mobile phones comes in Micro SIM and Nano SIM versions that will fit most LTE-capable handsets like ZTE T82, Sony Xperia V, Samsung Galaxy S4, Sony Xperia Z, Nokia Lumia 920, Huawei Ascend D2 and iPhone 5.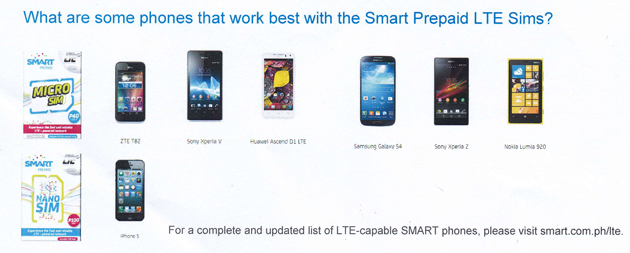 The Smart LTE Prepaid SIM also allows for call and text and will be available in telco tiangges and retail outlets and Smart Stores.
Smart currently has more than 57 million subscribers, with 80 percent of them on prepaid accounts.
The introduction of the Smart LTE Prepaid SIM in the mass market would now provide an opportunity for Smart prepaid 3G subscribers who have LTE-capable handsets to migrate to an LTE service to maximize the LTE capability of their handsets.
Smart LTE network, which is already deployed in 180 cities and municipalities nationwide and 17 cities and municipalities in Metro Manila, provides data connectivity speed of up to 42 Mbps.
This speed allows for immediate access of cloud-based apps used in smartphones, as well as provide video streaming like YouTube or Vimeo without the lag or wait.
"With the launch of the Smart Prepaid LTE SIM for mobile phones, we are making it possible for majority of our subscribers to experience the difference and benefits of LTE while on the go," said Jane Basas, head of Smart's prepaid business group.
"We can now give our prepaid subscribers the complete package—allowing them to have 'lightning-fast' mobile Internet connectivity, while being able to call and text—all through one SIM."
The Smart Prepaid LTE dual-cut micro SIM is priced at P40 and already includes 35 free messages. The Smart Prepaid LTE nano SIM for iPhone 5 is priced at P100 and includes a P50 load.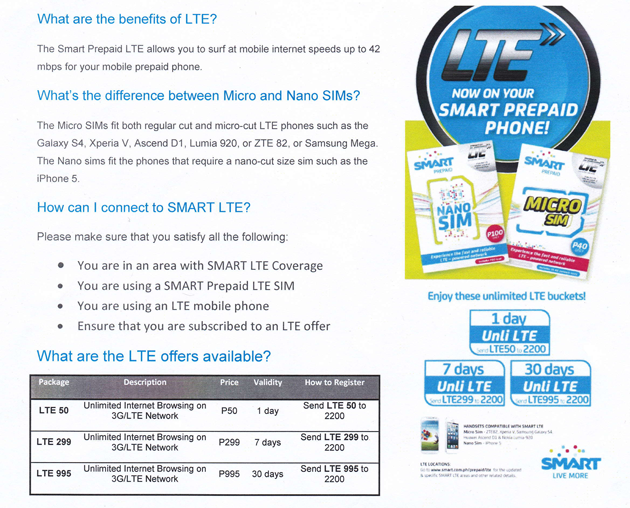 Both can be loaded with Smart's LTE packages or buckets, which offer unlimited LTE browsing for 1 day (P50), 7 days (P299), or 30 days (P995). These LTE packages can be availed by texting LTE 50, LTE 299, or LTE 995 to 2200.
As the Smart LTE Prepaid SIM can also be used for calls and text, users can likewise purchase any of the Smart call or text packages, which they can enjoy along with the LTE package.
When the packages hit their expiration date, regular rates shall apply and the LTE signal shall be downgraded to a 3G.
Smart Prepaid subscribers who are on 3G network can have their service upgraded to Smart LTE Prepaid SIM and still retain their number. They just have to go to a Smart Wireless Center and make the request.