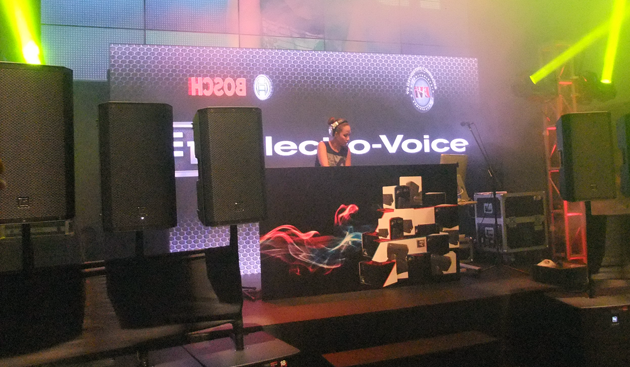 Electro-Voice (EV), recognized as a leader in audio technology, launched its new line of portable 12" and 15" loudspeakers under the ZLX line.
Perfect for use as mains or monitors, ZLX portable loudspeakers represent a new standard for musicians, DJs and performers looking for more than just a portable loudspeaker.
ZLX loudspeakers feature smart design and straightforward operation. It combines decades of expertise in professional audio engineering with a bold new look and user-friendly features that give performers extraordinary control over their sound.
Available in powered and passive two-way models, ZLX loudspeakers offer the most precise control and configuration available at its price point, and can be optimized according to performers' application – be it music, live, speech or club – and location.
"We launched our ZLX line here not only because we wanted to expand our product portfolio. By making our latest innovations available and accessible to local consumers, we further our aim to better serve the Philippine market," according to Johannes Huth, director for product marketing, Bosch Communication Systems.
EV audio products for professional use are distributed in the Philippines by EVI Distribution Philippines, Inc. EV audio products are popular and widely used.
EV speakers and microphones are installed in the Suwon World Cup Stadium in Korea, the Parramatta Stadium in Australia, the Philippine Senate, the Philippine Congress, as well as in several facilities and establishments nationwide.
Features of ZLX loudspeakers:
• Plug and play whenever, wherever
The two powered ZLX models cut through the competition with the most complete and innovative package of features in their class.
Intended for smaller-venue sound reinforcement or stage-monitoring, the compact, lightweight 12" two-way powered loudspeaker (ZLX-12P) is designed to give performers power beyond the scope of other small-format loudspeakers.
Whether used on its own or with a sub, the 15" two-way powered loudspeaker (ZLX-15P) provides crisp, clean highs and tight, deep lows for larger spaces – all with enough amplifier headroom to make sure performers are heard loudly and clearly.
• Taking full control of your sound
Featuring custom drivers housed in a breakthrough new cabinet design, the two passive ZLX models make EV's legendary sound quality and rugged reliability more accessible than ever before.
Ideal for main loudspeaker or monitor wedge duties, the 12" two-way passive loudspeaker (ZLX-12) offers the ultimate combination of performance and portability while looking great on stage.
The 15" two-way passive loudspeaker (ZLX-15) gives performers the confidence of the industry's most trusted components engineered to exacting standards to bring exceptional EV audio quality for larger applications, with or without a subwoofer.
For more information on Electro-Voice and its ZLX line, log on to the EV website (http://www.electrovoice.com/zlx/).