It's not yet its official launch in the country, but HTC Philippines gathered select media and HTC fans to preview the company's flagship smartphone HTC One, which has been receiving rave reviews in many online tech news and blogs.
The HTC One, a 4.7 inch super smartphone, the one that followed the premium HTC One X, boasts of more than 300 additional features, much of them concerning the user interface and the camera function.


Key innovations include the BlinkFeed live homescreen, which HTC officials claim will influence how UIs of devices will eventually evolve. This feature may look similar to a "flipboard" and even the "tile menu" of a Windows phone UI, but BlinkFeed distinguishes itself by providing boxes where content gets updates automatically. Content may come from news sites or other online services, including social networks.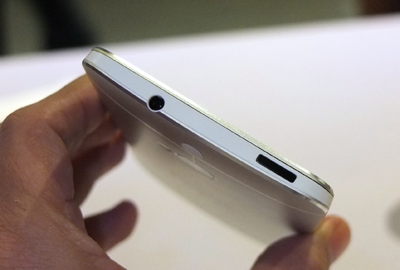 According to Justin Hang, product marketing for HTC South Asia, the BlinkFeed is new way of accessing features and content of the smartphone and it is more adapted to the needs of consumers today.
Apparently, the icon-based access of phone functions, which has been used since the smartphone was invented, hasn't really changed much to offer more on the table for people, who are now relying on their smartphones to do work, watch online videos, read online news, view Facebook updates, etc.
"It's a new way to serve information, versus tapping an icon," said Hang, adding that the new UI empowers the user.
HTC has partnered with content providers for the BlinkFeed feature; the number will increase in the near future and we hope will eventually include local content.
HTC One X features a great camera with a lot of functions like 2.0 aperture and burs shots. This is improved more with the HTC One, which now has the Zoe feature, a collective camera feature.
HTC Zoe allows for a multitude of features on improving shots–when you take a photo and after you've taken a photo.
Through Zoe, the HTC has 3D optical image stabilization (which is better than digital image stabilization), an ultrapixel camera with a sensor bigger than one Canon point-and-shoot digicam (in fact, the photo taken by HTC One can be printed with the size of 8R), more photo editing functions (you can replace a non-smiling face with smiling face in a particular group photo you like or remove other objects in the image), real time video and photo effects, living gallery (the photos you've taken can be easily be made into a video), and access to HTC Share Online service.
HTC's focus on improving the camera has to do with the consumers' habit of uploading photos online. On Facebook alone, 300 million photos are uploaded on a daily basis.
Other notable features:
• Presence of a dedicated amplifier for both speakers. There are dual frontal stereo speakers.
• HTC Sync Manager that can now synch iPhone contents
• A new Sense Voice, which makes caller's voice clear even in a noisy environment
• HDR recording
• Unibody design curved out entirely from a new metal alloy compound
• Bigger battery