In today's world, where digital data is valuable, the dashboard camera or dashcam has become an invaluable tool for car owners since it provides evidence that can be used for traffic and road related cases.
Transcend Information Inc, which makes the popular DrivePro dash cam products, prepared the following guide to help consumers select the right dashcam for their needs.
Image Sensor
Image sensor captures the light coming in through the lens to form a digital image. The larger the image sensor, the greater number of pixels it contains, meaning the more light it receives to produce clearer images with less noise.
Field of view
The most common field of view found among dashcams is 120 degrees to 140 degrees. While a larger field of view means more imagery is captured, this comes at the cost of distortion and decreased resolution, particularly around the edges. Therefore, a wider angular field of view isn't necessarily better.
Resolution
Resolution determines image clarity. At a minimum, 1080P Full HD is recommended to ensure that details, such as license plates, are captured clearly. High resolution is also useful for better clarity of zoom-in images.
Frame rate
Frame rate, commonly referred to as frames per second (FPS), indicates the number of frames or images taken per second to make up a video. A rate of 30 fps or faster is sufficient for smooth video; 20 fps or lower has noticeable flicker or choppiness.
Battery
An inbuilt battery in a dashcam allows time to save a video file when the car engine turns off. It allows presets to be retained, such that power failure does not result in a return to default settings, such as time and date.
APP & Wi-Fi
As dashcams are made in a discreet form factor without a display screen, built-in Wi-Fi brings greater convenience when working with the exclusive app on mobile devices. You can set up your dashcam directly via your mobile device, and share snapshots and videos instantly.
GPS
GPS can precisely locate your position anywhere in the world. Dashcams with a GPS receiver can log coordinates, date, and time into recorded video footage, useful when you call for help but are unsure of your location.
Memory card included
A good memory card is key to storing critical evidence. Some dash cam units come with a memory card while for others you'll have to buy it separately. Dashcams are write-intensive, so a high-endurance memory card preferably made of MLC-based NAND flash is recommended for greater stability and reliability.
Using the advice above, you should be able to shop for a dashcam on your own and find one that's more than satisfactory.
But if you're feeling lost, here are Transcend's recommended dashcams for any needs: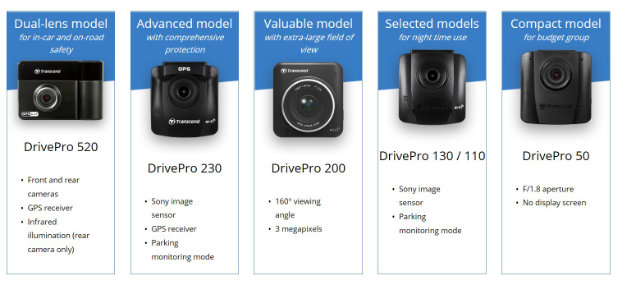 Do you want to record both inside and outside your car? If you want to record what is happening behind or inside your vehicle as well as record the road in front of you, Transcend's DrivePro 520 dual-lens dashcam will be the best option for you. It includes two video lens and records from both of these lenses at the same time.
If you want to have an advanced dashcam with comprehensive protection, Transcend's DrivePro 230 is right for you. It balances essential features with a multitude of topnotch add-ons, such as SONY Image Sensor, Lane Departure Warning System, Forward Collision Warning System, Parking Mode, GPS Conditions, and Emergency Recording.
The middle of the range DrivePro 200 is probably the best combination of price and value. It comes with an extra wide 160° viewing angle, resolution of 1920x1080p (30fps), and a row of 7 glass lenses to ensure your trip is recorded in high clarity.
If you do plan to drive at night, then be sure to invest in a dash cam with good night vision. Transcend's DrivePro 130/110 dashcam utilizes a Sony image sensor to provide high-resolution images with extremely fine tonal gradation even in low light.
The DrivePro 50 is Transcend's most compact model with those essential features you need in a dash camera. It has no LCD screen to distract you while you're driving and the free DrivePro App allows you to stream, playback, and download videos, or adjust settings directly from your iOS or Android device with wireless connectivity.
Known for its high quality flash memory cards, Transcend bundles every DrivePro dashcam with a High Endurance memory card.
What's more, the full range of DrivePro dashcams is backed by Transcend's 2-year Limited Warranty.
For more information about Transcend DrivePro products, please visit https://www.transcend-info.com/product/cvr