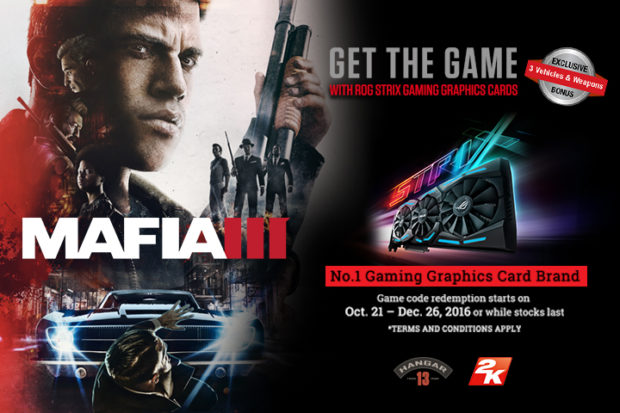 ASUS has announced that all purchases of selected ASUS gaming graphics cards products will be eligible to receive a bonus Mafia III game download key along with bonus Mafia III Family Kick-Back in-game vehicles and weapons.
Purchasers can receive their free game download key by registering on the event microsite (www.asus.com/event/2016/rog/Mafia3) from 21st October to 26th December, 2016 or while supplies last.
The game can be redeemed online at Steam® through 1st September, 2017. The graphics card offer is valid for purchases at participating e-tailers or resellers in the Philippines.
Mafia III is an action-adventure video game developed by Hangar 13 and published by 2K. It is the third installment in the Mafia series, and the debut title for Hangar 13. Set in 1968 in the city of New Bordeaux, a fictional recreation of New Orleans, the story revolves around Lincoln Clay, an orphan and a Vietnam War veteran, who is on a quest to tear down the city's Italian mob and build a new crime family on the ashes of the old. The game is out now. For more details on Mafia III, visit http://www.mafiagame.com/.
The ASUS Mafia III graphics card product bundles can be redeemed from 21st October, 2016 for the Asia-Pacific region including the Philippines and its participating e-tailers and resellers.
Here are the list of ASUS graphics cards included in the bundle offers:
Model Name
Suggested Retail Price
STRIX-GTX1080-O8G-GAMING
PHP 41,230
STRIX-GTX1080-A8G-GAMING
PHP 40,600
STRIX-GTX1080-8G-GAMING
PHP 39,970
STRIX-GTX1070-O8G-GAMING
PHP 28,150
STRIX-GTX1070-8G-GAMING
PHP 27,520
STRIX-GTX1060-O6G-Gaming
PHP 18,500
STRIX-GTX1060-6G-Gaming
PHP 18,200