The Lenovo S850 smartphone and the Lenovo A8-50 tablet are new additions to Lenovo's portfolio of mobile products now available here in the Philippines.
The Lenovo A8-50 sports a larger screen of 8 inches and is positioned as a portable multimedia tablet with enhanced sound. While the Lenovo S850 is a savvy and highly responsive smartphone encased in all-glass exterior and comes in colors too.
The Lenovo S850, which costs Php13,999 is available through authorized dealers of Open Communications, Lenovo Philippines' exclusive smartphone distributor while the Lenovo A8-50, which costs Php10,499 is available through Lenovo's authorized resellers.
Lenovo A8-50


The Lenovo A8-50 comes in colors– midnight blue, pearly white, flamenco red, and canary yellow–and features a 30% larger screen than seven-inch tablets. It weighs 360g and its eight-inch frame easily fits into the user's hand.
The tablet's sharp, colourful 8-inch display produces bright HD images. There's also the presence of front-facing, Dolby Audio speakers, making this device an excellent choice for playing games, watching videos, listening to music, and interacting with friends online.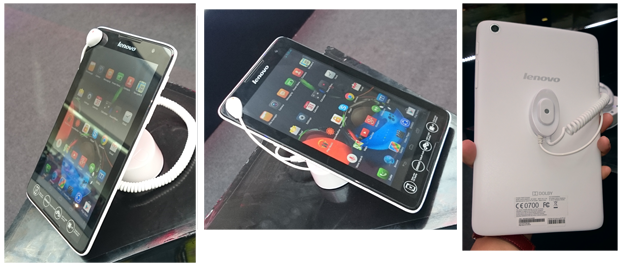 By activating Smart Sidebar, users can enjoy optimal video and audio settings for vertical or horizontal modes. Smart Sidebar also suggests recently-used apps.
Lenovo A8-50 supports Lenovo's SHAREit and SYNCit apps for sharing photos, apps and other files across Android devices without network charges or Wi-Fi connection.
The S850 is the latest 5-inch smartphone among the batch of S series of Lenovo Android-run smartphones. It features a classy all-glass exterior that encases smooth and responsive quad-core processor.
It sports a brilliant 13MP rear and 5MP front cameras. The 5MP wide-angle front camera takes awesome selfies and project better images in voice chats.
The Lenovo S850 also sports a dual SIM feature, allowing users to use different two numbers.
Lenovo S850 also supports Lenovo's range of DOit apps, allowing users to share content with friends rapidly without network charges or Wi-Fi connection, improve speed and protect their device against viruses, spam and malware, back up and restore contacts, SMS messages and call logs, and use multiple shooting modes to when snapping photos.

Lenovo partners with global fashion brand Forever 21
As part of its continuous consumer brand-building effort, Lenovo has partnered with global fashion brand, Forever 21 for the launch of the S850 smartphone and A8-50 tablet. The decision is in tandem with Lenovo's strategy of attacking today's young consumer market by banking on the fashion brand's reputation as an authority on fashion and the go-to retailer for the latest trends and must-have styles.
To celebrate the release of the latest stylish gadget offers, Lenovo is offering two promos that are sure to delight fashionistas and fashionistos alike.
For every purchase of the Lenovo S850 or A8-50, consumers will get a Php250 Forever 21 discount voucher for a minimum purchase of Php2,500 worth of regular priced items. The offer is valid from July 21-August 15, 2014 at all Forever 21 Metro Manila branches.
Two lucky consumers can also get the chance to win Php5,000 pesos worth of gift certificates for a shopping spree at Forever 21 by simply uploading a mirror selfie of themselves with their brand new S850. The complete details of this contest can be found on Lenovo Mobile Philippines Facebook.