Asus' anticipated Zenfone Android run smartphones are now available in the Philippines. There are three variants of the Zenfone, the names indicating the size of the display– Zenfone 4, Zenfone 5, and Zenfone 6—and all are powered by the Intel Atom mobile CPU with hyperthreading technology.
Prices of the new stylish smartphones range from Php3995 to Php11995:
Item                      Model Name        Internal Storage                      Price
Zenfone 4           A400CXG                8GB                                       Php3,995
Zenfone 5           A501CG                    8GB                                       Php6,495
Zenfone 6           A601CG                    16GB                                     Php11,995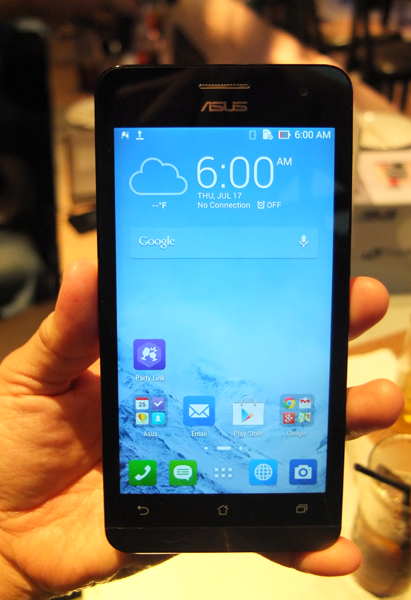 With beautiful design and high quality materials that went into its make, the Zenfone series look every part a high-quality smartphone yet comes with an affordable price tag. Premium yet affordable seems to be the growing trend among smartphones and tablet these days.
The most affordable among the series, the Zenfone 4 features a 4-inch display and can be personalized with with swappable back covers available in Charcoal Black, Pearl White, Cherry Red, Sky Blue and Solar Yellow colors. It supports Micro SD cards up to 64GB, giving plenty of room to store photos, videos, apps, and more.
Zenfone 5 comes with a spacious 5-inch HD IPS+ display that can even be used while wearing gloves. Its stunning design tapers to just 5.5mm at its thinnest edge. Zenfone 5 is available in Charcoal Black, Pearl White, Cherry Red, Champagne Gold and Twilight Purple colors. Its durable display is already a Corning Gorilla Glass 3.
Also featuring Corning Gorilla Glass 3, the Zenfone 6 offers a fantastic 6-inch HD IPS+ display complemented by SonicMaster audio technology to deliver immersive entertainment experiences. It is equipped with a powerful 13-megapixel camera for clear, high-resolution photos. ZenFone 6 is available in Charcoal Black, Pearl White, Cherry Red and Champagne Gold colors.
Key features of the series include the following:
ASUS ZenUI, an all-new, exclusive mobile user interface developed around the concepts of freedom, expression and connection. It includes two features — What's Next and Do It Later.
What's Next puts the information currently most important and useful to the user — such as upcoming appointments, new messages and missed calls from VIP contacts, weather at the next destination, and more — front and center on the lock screen, the home screen and in the notification drawer.
Do It Later frees the user to focus on the task at hand, without forgetting about other important things that they need to do later. If a user is in the middle of writing an email and receives a phone call, a simple button tap automatically creates a reminder to call that person back. Users can also save interesting items, like articles, YouTube videos, or any web page, to read later. Each reminder and saved item is collected in the separate Do It Later app and includes a shortcut to perform the related action, such as call a contact or view a webpage.
PixelMaster, an exclusive ASUS camera technology comprising a set of features including Selfie Mode and Depth of Field Mode that improve camera performance and make it easier for users to capture great photos and videos. Two additional PixelMaster features, Low-light Mode and Time Rewind, are also available on Zenfone 5 and Zenfone 6.
Lazada Philippines has started offering the Zenfone series beginning with the Zenfone 4. Click here for details.