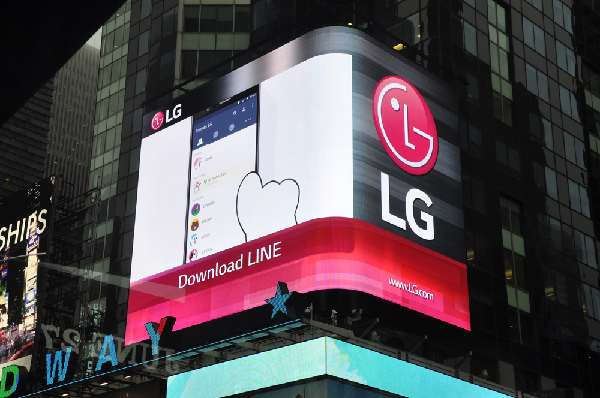 LINE has partnered with LG to produce and air a new Auto-Suggest feature brand video on the LG billboard display located in the heart of Times Square.
LINE's built-in Auto-Suggest feature suggests relevant emoji and stickers based on the content typed in real time without interrupting conversation flow.
The brand video illustrates features found in LINE that can help users live a "smarter" lifestyle by enhancing people's interaction with smart appliances through use of technology.
In the brand video, LINE's popular characters, Cony and Brown, hold a conversation via LINE messenger using vivid emoji and stickers.
With the help of LINE's Auto-Suggest feature, Cony and Brown can conveniently find and send relevant emoji and stickers as they appear above the keyboard whenever they type in a word or phrase. Conveying messages faster and simpler than before, LINE's Auto-Suggest feature was developed to enhance communication and help users share feelings and tell stories through art.
The video also highlights Cony utilizing LG HomeChat, an ICT (Information and Communications Technology) service that allows users to communicate, control, monitor and share content with LG smart household appliances through LINE. To prepare for her date with Brown, Cony sends LINE messages to LG smart refrigerator and the robotic vacuum cleaner to get the room ready.
"We are excited to be back in Times Square to showcase a new brand video highlighting our features with LG, following a successful LINE Friends pop-up store last December. The new video campaign, in the heart of Times Square, is a significant milestone for us as we further penetrate into the US market as a leading life platform," said LINE's spokesperson.
To watch the full brand video on the LG billboard display, please see: https://www.dropbox.com/s/2l3iwxfsf3uracl/LINE%20x%20LG_brand%20video_final.mp4?dl=0