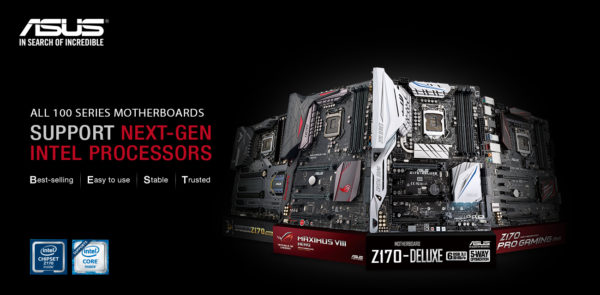 ASUS today announced that all 100-series motherboards will now support next-generation Intel® Core™ processors. A quick and easy UEFI BIOS update unleashes the full potential of the next-generation high-performance CPUs for socket LGA 1151, reaffirming ASUS as the BEST leading motherboard brand — Best Selling, Easy to Use, Stable and Trusted.
Owners of ASUS Republic of Gamers (ROG), Pro Gaming, Signature and TUF Z170, H170, B150 and H110 motherboards are able to take advantage of the easy upgrade to the award-winning ASUS UEFI BIOS, which is available today via the relevant ASUS Support web page.
All ASUS 100-series motherboards that include the ASUS USB BIOS Flashback feature allow users to apply UEFI BIOS updates with ease. For other ASUS 100-series motherboards the necessary UEFI BIOS update takes just one click in an easy-to-use Windows-based BIOS updater application, ASUS EZ Update, which is available to download from the ASUS website.
Users keen to take advantage of the power of the next generation of LGA1151 Intel Core processors should visit product support page via www.asus.com and download the relevant UEFI BIOS version today. The following ASUS 100-series motherboards can be updated for compatibility with the latest Intel CPUs:
List of supported models:
| | | |
| --- | --- | --- |
| Intel Chipset | Model Name | BIOS Version |
| Z170 | MAXIMUS VIII EXTREME | 2202 |
| Z170 | MAXIMUS VIII FORMULA | 2202 |
| Z170 | MAXIMUS VIII HERO ALPHA | 2202 |
| Z170 | MAXIMUS VIII HERO | 2202 |
| Z170 | MAXIMUS VIII RANGER | 2202 |
| Z170 | MAXIMUS VIII GENE | 2202 |
| Z170 | MAXIMUS VIII IMPACT | 2202 |
| Z170 | Z170 PRO GAMING/AURA | 2003 |
| Z170 | Z170 PRO GAMING | 2003 |
| Z170 | Z170I PRO GAMING | 2003 |
| Z170 | Z170-PREMIUM | 2202 |
| Z170 | Z170-DELUXE | 2202 |
| Z170 | Z170-PRO | 2202 |
| Z170 | Z170-A | 2202 |
| Z170 | Z170-AR | 2202 |
| Z170 | Z170-E | 2202 |
| Z170 | Z170-K | 2003 |
| Z170 | Z170-P D3 | 2002 |
| Z170 | Z170-P | 2003 |
| Z170 | Z170M-PLUS | 2002 |
| Z170 | Z170M-E D3 | 2001 |
| Z170 | SABERTOOTH Z170 S | 2202 |
| Z170 | SABERTOOTH Z170 MARK 1 | 2202 |
| Q170 | Q170T | 2002 |
| Q170 | Q170S1 | 2001 |
| Q170 | Q170M-C | 2003 |
| Q170 | Q170M2 | 2001 |
| Q170 | Q170I-PLUS | 2002 |
| H170 | H170 PRO GAMING | 2003 |
| H170 | H170-PRO/USB 3.1 | 2002 |
| H170 | H170-PRO | 2003 |
| H170 | H170-PLUS D3 | 2002 |
| H170 | H170M-PLUS | 2002 |
| H170 | H170M-E D3 | 2001 |
| H170 | H170I-PRO | 2002 |
| H110 | H170I-PLUS D3 | 2001 |
| B150 | B150 PRO GAMING/AURA | 2003 |
| B150 | B150 PRO GAMING D3 | 2001 |
| B150 | B150 PRO GAMING | 2003 |
| B150 | B150-A | 2001 |
| B150 | B150-PRO D3 | 2001 |
| B150 | B150-PRO | 2002 |
| B150 | B150-PLUS D3 | 2001 |
| B150 | B150-PLUS | 2002 |
| B150 | B150M-PLUS D3 | 2001 |
| B150 | B150M-PLUS | 2003 |
| B150 | B150M-A/M.2 | 2003 |
| B150 | B150M-A | 2001 |
| B150 | B150M-C D3 | 2001 |
| B150 | B150M-C | 2003 |
| B150 | B150M-D D3 | 2001 |
| B150 | B150M-D | 2002 |
| B150 | B150M-V PLUS | 2002 |
| B150 | B150M-K D3 | 2001 |
| B150 | B150M-K | 2003 |
| B150 | B150M-F PLUS | 2002 |
| B150 | B150M-ET M2 | 2002 |
| B150 | B150M-ET D3 | 2001 |
| B150 | B150M-ET | 2001 |
| B150 | PIO-B150M | 2002 |
| B150 | EX-B150M-V5 D3 | 2001 |
| B150 | EX-B150M-V5 | 2002 |
| B150 | EX-B150M-V3 | 2003 |
| H110 | H110-PLUS | 2002 |
| H110 | H110M-R | 2002 |
| H110 | H110M-PLUS D3 | 2001 |
| H110 | H110M-PLUS | 2002 |
| H110 | H110M-A/M.2 | 2003 |
| H110 | H110M-A/DP | 2002 |
| H110 | H110M-A D3 | 2001 |
| H110 | H110M-A | 2001 |
| H110 | H110M-C D3 | 2001 |
| H110 | H110M-D D3 | 2001 |
| H110 | H110M-D | 2002 |
| H110 | H110M-ET | 2001 |
| H110 | H110M-E/M.2 | 2002 |
| H110 | H110M-E D3 | 2001 |
| H110 | H110M-E | 2002 |
| H110 | H110M-K D3 | 2001 |
| H110 | H110M-K | 2003 |
| H110 | H110I-PLUS | 2002 |
| H110 | H110T | 2002 |
| H110 | H110S1 | 2002 |
| C232 | E3-PRO V5 | 2002 |
| C232 | E3M-PLUS V5 | 2003 |
| C232 | E3M-ET V5 | 2001 |
| C232 | E3 PRO Gaming V5 | 2002 |