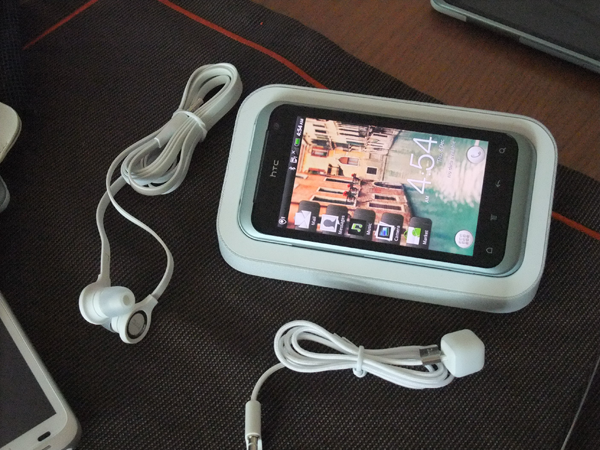 Android keeps expanding its territory as Taiwanese smartphone maker HTC has recently rolled out two new handsets running on Google's popular mobile platform.
HTC Rhyme is a reincarnation of HTC's popular Android handset HTC Desire. It now runs on Android Gingerbread iteration and the latest HTC Sense, a user interface that enhances further the phone's touch UI features. It also now features a reinvigorated unibody design in a fresh Clearwater colorand faster mobile processor.
Targeting the female users, the pretty HTC Rhyme already comes with complementary accessories such as a free dock, headset, and dongle or charmer that has the special function of indicating the coming of calls or text through light flashes.
It features a bright 3.7-inch WVGA super LCD display, high-quality stereo sound, 5 MP camera with advanced imaging capabilities and power LED flash and a dedicated shutter button (located on the right side).
In addition, the camera features a number of photo-taking and sharing elements, including face detection, , action burst scene, and panoramic mode.
On the other hand, the smaller HTC Explorer brings an advanced smartphone experience to first time smartphone customers. With a curved and compact design, a 3.2" HVGA touchscreen and 3MP camera, HTC Explorer offers smartphone performance in an attractive and affordable phone. It also offers you control over your data and mobile services with the incorporation of a usage monitor app that tracks your call minutes, messages and data.
The HTC Sense UI differentiates HTC Android handsets from other brands. The updated HTC Sense on both phones now featurea home screen that enables a quick, uncluttered previews of your appointments, messages, or any service that is important to the user. It now also features a customizable "lock screen" that still enables the user to launch an application just by dragging the widget right onto the center of the circle.
With an SRP of P25,000, the HTC Rhyme already comes bundled with the HTC Rhyme Docking Station, HTC Rhyme Tangle Free Headphones and HTC Rhyme Charm. The HTC Explorer, which comes in metallic black comes with an SRP of P11,900.