The "touch" user experience has really taken the world by storm in 2011. Sales of smartphones and tablets have seen skyrocket levels as consumers gobble up these devices that make them enjoy the web and its host of services like social network, apps, music, and video. The trend of consumers having more than one computing device continue to rise as device manufacturers continue to come out with more intuitive and powerful touch computing devices.
Tablets of every make and size
Definitely on top on the heap of gadgets wish list are tablets, which are encroaching more of the consumers' web and computing activity. They offer wonderful touch user interface, fast web browsing, full HD playback for videos and games, communication, email, apps download, battery life that lasts for days, and a host of features. Tablets aren't a fad that will fade away soon. They're here to stay and their use will expand to commercial and enterprise as more offices will tool their employees with tablets.

1. First on the list is the iPad2, a thinner and improved version of the first generation iPad, which was the game changing PC iteration that the late Steve Jobs introduced last year. iPad2 now runs on smoother and fluid iOS 5. It is also powered by dual core A5 chip and boasts of 10-hour battery life and access to thousands of apps via iTunes store.
If there's an Apple tablet, a competing device would be just around the corner and it comes in the Android Honeycomb platform. Among the Android-powered tablets, the top ones include the Eee Pad Transformer, Galaxy Tab, Acer Iconia, and the Huawei MediaPad.
2. Eee Pad Transformer distinguishes itself by featuring an optional keyboard dock that can be connected to the tablet via a pin slot. The keyboard dock extends the function of the tablet by providing it with full size USB ports and SD card slot, as well as giving more battery power to the tablet. Battery life of the Eee Pad Transformer with the keyboard dock is up to 15 hours.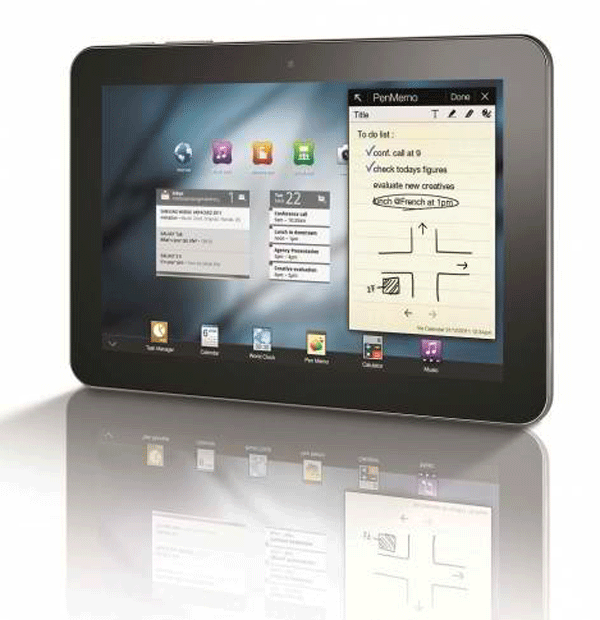 3. Samsung's Galaxy Tab is a family of tablets that include a 10.1 inch screen, an 8.9 inch screen, a 7 inch screen, and a 5 inch screen. Most notable among the family of Samsung Androids are the Galaxy Tab 10.1 and the Galaxy Tab 8.9. What sets them apart is the ultra-thinness of their chassis, which only measures at 8.9 mm. Both tablets feature Samsung proprietary Touch Wiz UX, a touch user-interface that enhances the tablet experience through live panels, mini mode tray (one-touch access to most used app), and clipboard function. They also boast of dual core mobile CPUs for immediate and no lag swiping and launch of applications or video playback.
4. Acer's Iconia A500 is 10.1 inch tablet already powered by NVIDIA Tegra 2 processor and fitted with 1 GB memory so it can pretty much capable of running apps fluidly and seamlessly all at the same time. It features a high quality metal unibody design that houses a WXGA (1280 x 800) display capable of wide view angle. Users can customize home screens, download eBooks through Acer Lumiread service, video record in HD, Clear.FI technology (a DLNA function), and photo book browser for images and photos. It also comes preloaded with a number of HD games.
5. The Huawei MediaPad is a 7-inch tablet that features a high definition touch display and a dual core Qualcomm 1.2 GHz mobile CPU. It's also a 3G enabled device boasting of HSPA+ 14.4 Mbps speed apart from being Wi-Fi capable. It is also first 7-inch Android 3.2 Honeycomb tablet.
Featuring 1080p full HD video playback plus dual cameras, the Mediapad is also one of the slimmest as well, measuring just 10.5mm (0.4 inches) deep and weighing approximately 390g (0.86 pounds).
Make way for super smartphones
Smartphones are getting smarter as their mobile CPUs, graphics and operating systems also increase in performance and features.
6. Apple's iconic iPhone now comes in version iPhone 4S. The smartphone that feature iOS5 is now being offered by Globe and Smart telcos. The iPhone 4S now features a dual core A5 chip, dual camera and full HD video, Facetime, iCloud, a bright retina display, and Siri.
Siri, who? You ask? It's actually a "talking" application with a female voice that does more than talk back, but really provide you with directions, tell you the weather, take your messages and send them, or make phone calls for you—all you have to do is ask .  But the Siri function is only limited to US territory.
On the other hand, the top smartphones that made a dent into consumers' digital consciousness include Samsung's Galaxy S II, Galaxy Note, HTC Beats Sensation, Sony Ericsson XPERIA Play, Nokia N9, and HTC Radar.
7. Samsung Galaxy S II is the most successful Android smartphone that already registered 10 millions of units sold in the US alone. It is a powerful smartphone and brought in a lot of firsts, such as having a 4.3 inch WVGA Super AMOLED plus screen display, a 1.2 GHz dual-core processor, 1 GB RAM, and getting slimmest smartphone title (at the time it was introduced) boasting of mostly 8.49 mm thinness.
Another Samsung Droid making the news is the recently introduced Galaxy Note, which is a hybrid tablet and smartphone packed in a 5.3 inch slim form factor. Powered by 1.4 GHz dual core processor, the phone's large display is already HD Super AMOLED full touch screen. It's got 8 megapixel camera and can multitask with several apps on a split screen. The unique feature is the addition of pen input (S Pen), which functions for taking down notes or sketching or drawing.
8. Sony Ericsson ups the ante of what the Android platform can do by coming out with the XPERIA Play, the first smartphone to feature dedicated gaming buttons. The slider XPERIA Play runs on Android Gingerbread and has access to PlayStation Pocket game store.
Truly a marvel to look at, Sony Ericsson XPERIA Play has the appearance of a 4 inch touchscreen smartphone stitched up to a gaming controller of a Sony PSP Go, so we could safely say it's the smartphone version of the PSP.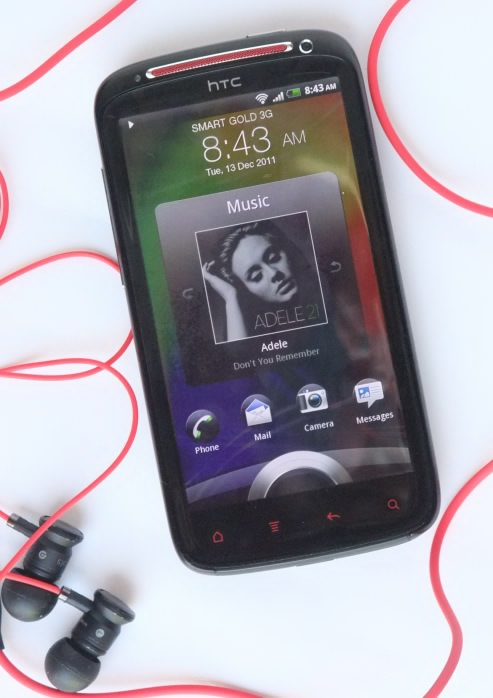 9. Lately Taiwanese smartphone maker HTC has been making great headway. Its phones are recognized for appealing and sturdy design combined with performance and superb user interface. One such phone is the HTC Sensation XE with Beats Audio, which is the first in a new line of HTC smartphones to feature Beats Audio technology to deliver studio quality audio.
The HTC Sensation XE with Beats Audio experience is a combination of software and hardware that allows you to hear music the way the artist intended. When used with the exclusive custom made Beats headset, the handset automatically switches to the bespoke Beats Audio sound profile, delivering audio tracks tuned specifically for the headphones.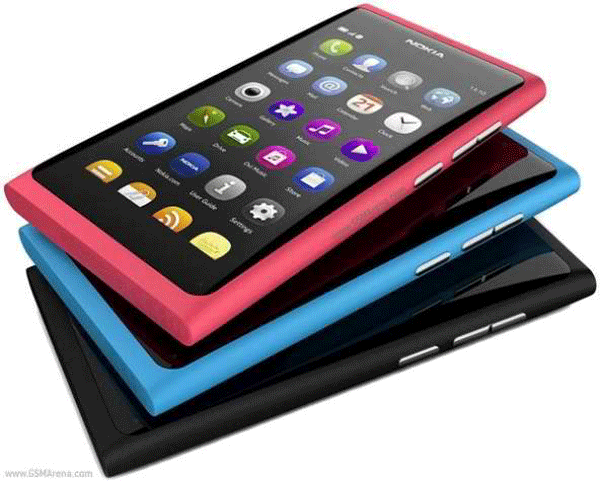 10. Nokia isn't yet beaten in the smartphone race as it has also come out with the Nokia N9, a smartphone running on Meego operating system. Specs wise, the Nokia N9 is a head turner.
It features a polycarbonate body, 8 megapixel Carl Zeiss autofocus sensor, wide angle lens, HD-quality video capture, large lens aperture, video play in true widescreen format, and surround sound experience. It's loaded with free turn-by-turn drive and walk navigation with voice guidance in Maps. It's also the first smartphone to have a fully activated near field communication technology, which allows users to easily share data in between devices by touching them together.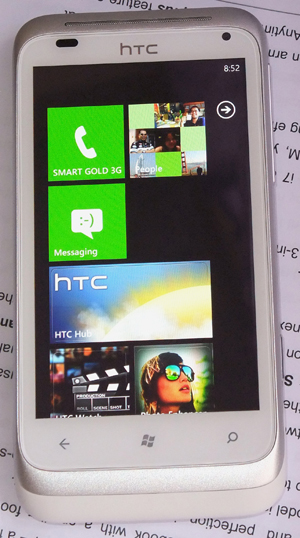 11. Windows powered smartphone has also made a splash as Nokia keeps whetting consumers' appetite with the coming of its Windows phone. But HTC first came out with the Windows phone in the form of HTC Mozart. Eventually, HTC improved on the Mozart by coming out with the HTC Radar that already carries the latest iteration of Windows mobile OS called the Mango (Windows phone OS 7.5).
As an HTC device, the HTC Radar is elegantly crafted in aluminum body and features Virtual 5.1 surround sound for multimedia use. As a Windows Mango phone, it features People Hub that keeps users up to date with your friends' latest news in social networks as well as Windows Live Messenger, which has put in one conversation SMS, Facebook chat and Windows Live Messenger. Significant improvement also includes multitasking and video calling and fast web browsing using HTML5.
Users also get an amazing mobile gaming with Xbox LIVE, providing access to a great selection of games for Windows Phone, which include features like Leaderboards and Achievement that connect users with friends and the Xbox LIVE community.