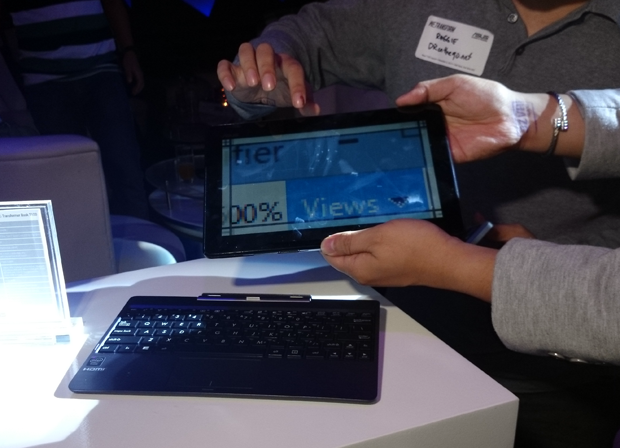 ASUS Philippines has launched in the Philippines the Transformer Book T100, a two-in-one ultraportable laptop running on Windows 8.1 and powered by Intel Atom Bay Trail processor.
Intel's new Atom Bay Trail is a low-thermal quad core processor which provides 2x the performance of the Atom Clover Trail, the previous Atom iteration.
The Transformer Book T100 features a suggested retail price of P23,995 and it comes preloaded with full Microsoft suite in addition to access to unlimited Asus Web storage for one year.


The Transformer Book T100 design is a legacy from other Asus Transformer products, which run on Android OS (remember Asus TFT101?) and as such it features a tablet that can be placed (via pin connection) in a keyboard dock.
The tablet component of the Transformer Book T100 features a 10.1 inch display that is already IPS, offering resolution of 1366 x 768.
The lightweight keyboard dock has precision-engineered keys for comfortable extended use, plus a large multi-touch touchpad with full Windows 8 gesture support.
There's also the presence of a USB 3.0 port and a micro SD slot that can accommodate up to 64 GB for more storage as the device only has internal storage of 64 GB SSD.


In addition to the usual notebook components such as Wi-Fi and Bluetooth, the Transformer Book T100 boasts of ASUS SonicMaster Audio technology for crystal clear audio.
According to ASUS officials present during the launching of the product at Haze Club on November 5, the Transformer Book T100 is the evolution of the netbook, which the company pioneered in 2007.
They said the product will also encourage affordability in new Windows PCs similar to what has the netbook done for the whole PC industry.

The new Intel Atom Bay Trail provides the Transformer Book T100 with 11 hours of battery life in addition to features such as hardware and software security as well as "burst" feature that allows the laptop to scale up or scale down performance when needed. The super tiny processor (22 nm process) can now be placed behind a thin display, allowing for transformed form factors of PCs today.