Sony has been equipping its high-end tablets and smartphones with waterproof feature. The latest to adapt this feature is the new Xperia Z2 tablet, which the company describes as the world's slimmest and lightest waterproof tablet.
The Android Kitkat-run Xperia Z2, which retails in the Philippines for Php34,990, comes in LTE and 3G versions.
As it is a premium product, it features a 10.1 inch full HD Triluminos display for mobile. (Triluminos display is a technology found in Sony high-end TVs).
Other Sony TV proprietary technology inherited by the Xperia Z2 include Live Colour LED technology for a natural true to life color, Sony's X-Reality for mobile intelligent engine that analyzes each image for optimal color, sharpness and contrast. While super resolution reproduces lacking pixels.
The Xperia Z2 is also equipped with Sony's Front Surround audio technology and Digital Noise Canceling technology. Yes, this tablet can reduce ambient noise by up to 98 percent when paired with MDR-NC31EM Digital Noise Cancelling headset.
It has all the hallmarks of a premium product–from the materials and design thinking that went into the physical make of the Xperia Z2 to the hardware that chugs power into it.
Sony has this "OmniBalance design" idea for its products and using this concept, the Xperia Z2 came out having an elegant shape—slim yet reassuringly solid, providing balance and symmetry in all directions for a comfortable hold and beautiful look from all angles.
The Xperia Z2 Tablet features the fully integrated Qualcomm Snapdragon 801 processor with 2.3 GHz processor quad-core Krait CPU that delivers high performance without draining the battery. It is also fitted with the latest Adreno 330 GPU for immersive multimedia experiences with stunning visuals and 3D gaming.
Xperia Z2 Tablet can also spend less time charging with the integrated Qualcomm Quick Charge 2.0 technology, which enables devices to charge up to 75 percent faster. The battery is also high capacity–a 6000mAh lithium polymer battery. This big capacity battery together with Sony's Battery STAMINA Mode can provide up to 10 hours of uninterrupted multimedia usage and more than 100 hours music playback without having to recharge the battery.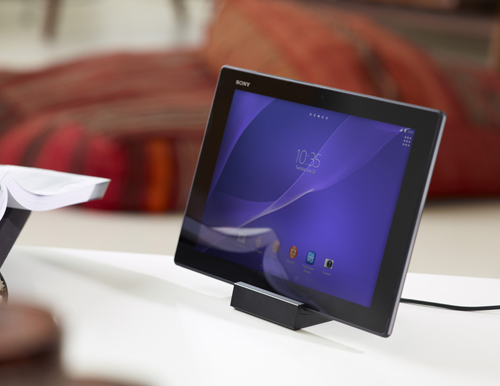 The Xperia Z2 is intended as a work tablet as it already includes a full version of OfficeSuite Pro 7, which means you can view, edit and share native Microsoft Office files. The robust security architecture of the Xperia Z2 Tablet safeguards both your corporate and personal data, while at the same time providing support for multiple accounts that are quick and simple to set up.
And if you're new to Xperia or simply upgrading, then Xperia Transfer is the simple and easy way to seamlessly transfer your contacts, photos, bookmarks, apps, messages and much more from your existing Android or iOS tablet, swiftly and securely.