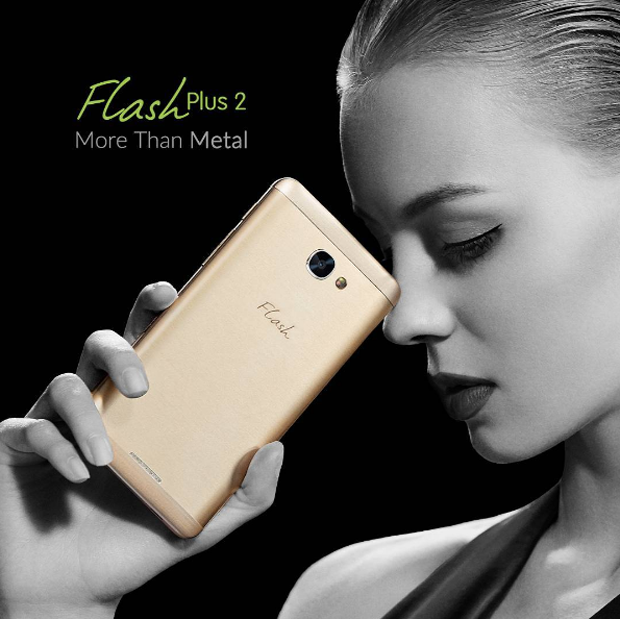 Flash upgrades the excellent photographing DNA of the Flash series with the launch of its new Flash Plus 2. But on top of its rich, experiential camera features, the newest addition to the Flash roster also boasts of pioneering functions such as fingerprint recognition, Hi-Fi sound effect, and fast battery charging—all boxed in a sophisticated metal case designed for the high- and medium-end market.
Flash has finally responded to its users' concerns by offering a smartphone that surpasses user convenience, sound effects and battery usage. According to Albert Wong, General Manager of Flash 3C Limited, the continuous innovation of the Flash series marks the brand's independence.
"The independence of the Flash brand means we have entered a complete new stage of development. What remains unchanged is that we will consistently follow the mission of Flash at its birth and stay connected with the young Internet consumers who enjoy sharing and pursue quality. We will get to know their specific needs through continuous interaction to create high quality smart hardware that is fun and enjoyable, offering the users a lifestyle of seeking our true selves," Wong said.
A Craft of Quality Workmanship
Flash Plus 2 adopts a metal framework for the phone that allows it to possess the unique glow and touch of metal through quality workmanship, while retaining its sleek and sophisticated aesthetics. The forge and grinding of the back of the phone case went through an array of complex processes ranging from horizontal wire-drawing, high-speed side sand-blasting, ultralight rim diamond cutting, and twice anodization.
In complying with the ethos of tending to detail, the all-new Flash Plus 2 adopts diamond cutting and twice anodic oxidation technologies for the 0.4mm rim of the Home key, for the 0.15mm sound volume key, and for the 0.4mm rim of flash lamp and speaker – each bit of this contributing to the aesthetics of smart phone body.
A Device of Efficiency and Convenience
Based on study of smart phone users' habits, Flash Plus 2 carries a frontal fingerprint recognition function that combines the dual criteria of external aesthetics and practical convenience. The fingerprint use experience makes Flash Plus 2 a perfect assistant of life and office efficiency, ranging from accurate fast unlocking to file encryption to one-stroke APP launch.
The fingerprint recognition of Flash Plus 2 is unique in that it not only offers 0.5s unlocking under "switch off" screen status and all-round accurate recognition, but also allows for personalized APP launch options corresponding to users' five fingerprints. For instance, users can conveniently unlock camera App through touching the fingerprint module with their forefingers, without going through any tedious procedure.
To prevent document theft and privacy leak, Flash Plus 2 provides a function of documents protection cabinet where privacy information is stored and encrypted with fingerprint, leaving users assured of their security even when the smartphone is not on their hands.
Another big edge that highlights the efficiency of Flash Plus 2 is its fast charging capability that best relieves users of battery capacity concerns. In order to ensure faster charging efficiency while maintaining safety, Flash Plus 2 carries a 3,000mAh battery group and adopts TI BQ25896 fast-charging chip and 9V/1.67A fast-charging technologies provided by Texas Instruments of the United States, which can charge battery to 50% in 30 minutes for up to a 10-hour uninterrupted call. The charging efficiency is raised by 35% compared with 5V/1A phones while it takes only 2 hours for the battery to be fully charged – the time of watching a movie or finishing a meal before the power status of your phones is fully restored.
A Fun and Excitement Camera Phone
Carrying over the optimum photographing function of the Flash brand, the new Flash Plus 2 launched a comprehensive upgrading of the two aspects of photo-taking capabilities: fast focal adjustment and dark light shooting. The users can capture sweet moments in a faster and better fashion during fleeting occasions or wonderful night scenes. For fast-moving objects, you'd be glad to know that the new Flash Plus 2 allows one-stroke fingerprint launch of camera with only 0.1s instant accurate focal adjustment through the blending of PDAF automatic focus technology and contrast focus effects.
Furthermore, Flash upgraded the power of its camera light. To ensure high-quality image effect even under low light conditions, the Flash Plus 2 is made with a 13,000-pixel rear lens with the warm double-color flash lamp RealTone that copes with nighttime or dim indoor luminous intensity. It frees users of the restraints of dim light conditions to see a perfect whole world as well.
The five million pixel front lens adopts LED flash lamp with CRI up to 80 while red spectrum is intelligently enhanced for selfie or video chatting conditions. With ruddy facial effect and glow, Flash Plus 2 offers an over 100% real-time facial enhancement function, allowing users to capture moments of beauty and beyond.
Flash is also taking your photography to the next level with the smartphone's series of creative functions. For example, the 84.40 ultra-broad view that it carries allows users to do a selfie during family or friends gatherings. The "Picture-in-Picture" Mode allows front and rear lenses to work simultaneously to accomplish a creative photo-in-photo experience. What's more, the Flash Plus 2 carries a Child Mode for parents to record precious moments of their kids' childhood, which creates a noise of sheep, car horn or kitten to catch your child's attention when the photo is being taken.
More Cutting-edge Features of Hardware and Software
The Flash Plus 2 features high-definition screen, powerful performance, Android M system, and dual channel turbo download, among other functions. The 5.5' FHD multiple point touchscreen adopts OGS full cohesion technology, with ultra-clear scenes within reach of a finger touch. Meanwhile, it carries Miravision 2.0 FHD display that enables smart eye protection in too strong or weak luminous situations, providing a wonderful visual experience of perfect clearness and comfort.
Furthermore, the new smartphone's Helio P10 processor ensures strong performance and low energy consumption in providing smooth, free "cut back" through multitasking operation of surfing the Internet, playing games, and watching videos.
As a new member of Flash brand, Flash Plus 2 continues the original Android system support while the all-new upgraded Android M operational system offers APP access control, web browsing, APP relevance, and smart energy-saving function, among others. For global Android lovers and tech geeks, it offers a streamlined, personalized user experience
The all-new Flash Plus 2 comes in two color options – Luna Silver and Venus Gold, providing a high-end customized choice appealing to refined taste.