The Samsung NX300 is the latest and updated mirrorless camera product from Samsung launched recently at Bonifacio High Street in Taguig City.
The new camera now boasts of faster shutter speed for a mirrorless camera category, offering a speed of 1/60000th of a second, in addition to having a 20.3 megapixel sensor and a new hybrid AF (autofocus) system. With the improvements, the NX300 can shoot continuously at 8.6 frames per second, bringing crystal clarity to fast-moving objects and capturing fleeting moment before the subject move out of frame.
Apart from Wi-Fi connectivity (for instant and direct uploading of photos to web services such as Facebook, YouTube and Picasa), It has a revolutionary 3.3-inch AMOLED touch screen display that can also be tilted for taking low or high angle shots. The AMOLED screen is the same screen found in high-end Samsung smartphones that give better image and playback clarity.
Lightweight and portable, the Samsung NX300 comes all decked up encased in light-weight, sleek, premium body.
Putting emphasis on the camera's speed, Samsung even got Jamaican sprinter Usain Bolt, considered the fastest runner on Earth, as NX300's endorser in an international TV commercial.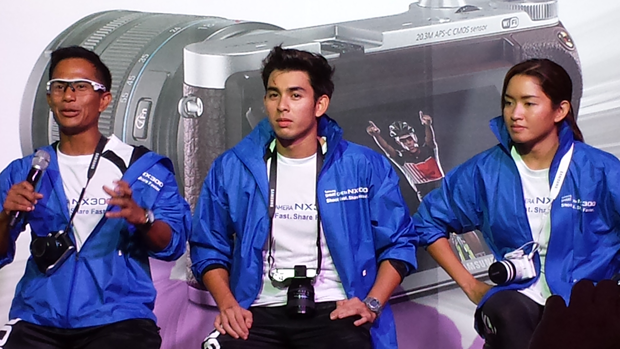 On the local front, Samsung got Filipino athletes Noy Jopson (Iron Man 7.3 Philippine record holder), Nikko Welgas (national record holder in Olympic Distance) and Monica Torres 4-time Filipina Elite champion in Iron Man 7.3 Philippines), whose accomplishments resonate the camera's speed capability.
Ace sports photographer Ben Chan of Blacksheep Manila demonstrated how Samsung NX300 works best in capturing fleeting moments. Ben who was put to the challenge of taking photos of the athletes training was able to fully utilize the features of the Samsung NX300. Never missing a shot, the NX300's fast shutter speed was able to keep up with the athlete's quick motions without having to pose or slow down.
"We are very pleased to introduce Samsung's breakthrough product in smart cameras," says Eric Sulit, Samsung Philippines Business Unit Director for Mobile and Digital Imaging. "We are confident that the new Samsung NX300 will set the standards in digital photography in terms of speed, ease of use and, of course, mobile connectivity which is also a major consideration among today's camera users who simply love to share their DSLR quality photos online."