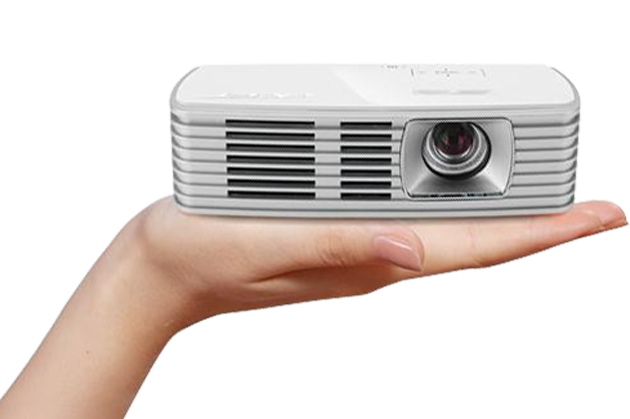 Philippine IT products distributor MSI-ECS has announced the availability of the Acer K135 LED projector, a small form factor projector that enables users to enjoy and share multimedia.
With a size smaller than a magazine, the Acer K135 LED projector delivers remarkable performance. It delivers high brightness up to 500 ANSI lumens combined with a 10,000:1 dynamic contrast ratio enhanced by DynamicBlack technology. This feature dramatically improves contrast, brings crisp and vibrant images.
The projector's native WXGA 1280 x 800 resolution renders ultra-sharp images and great looking presentations and permits the reproduction of high definition content.
As it is portable, the Acer K135 LED projector is perfect for mobile users looking for easy-to-carry and compact device,
Besides its portability feature, the projector has the necessary ports and connectivity. It's got an HDMI port for for easy connection to computers, DVD players or game consoles.


By the way, the HDMI is MHL compliant, which means it could allow for videos, pictures or play games to be streamed from a smartphone or a tablet and enjoyed on a big screen.
Simply connect a mobile device to the projector with the MHL cable to automatically synchronize audio and video, while charging the device at the same time. And for wireless presentations, Acer K135 comes bundled with a USB dongle.
It also comes equipped with a microSD reader and a USB port allowing multimedia playback directly from a USB drive or memory card.
Plus, with built-in Office and PDF Document Reader support, it can project Office or PDF files without using a PC. Users can watch and share a variety of multimedia contents, including photos, audio and videos without the added burden of a notebook.
The Acer K135 combines DLP with LED lamp technology to enhance picture quality.
LED technology offers several benefits over traditional lamps. First of all, it makes lamp replacement virtually unnecessary as a LED lamp lasts up to 30,000 hours in Eco Mode; moreover, the lack of breakable parts, such as filaments or tubes increases durability.
Finally, LED lamp technology is free of hazardous substances such as mercury or halogen gases and compared to a traditional lamp can help to reduce power consumption.
Acer K135 is exclusively distributed by MSI-ECS. And for a limited offer, every purchase of Acer K135 from any MSI-ECS accredited reseller comes with a free tripod screen and presentation clicker. For availability, please email marketing@msi-ecs.com.ph