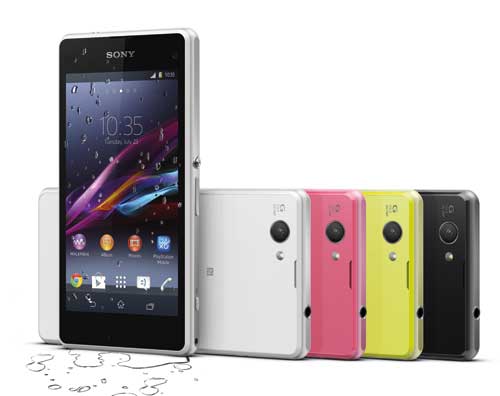 Big-screen premium flagship device getting a mini version is currently the trend in smartphones now. The latest to do so is the Sony Xperia Z1c (the c is short for compact), which is a compact sized version of Sony Xperia Z1.
It has everything the premium Xperia Z1 has to offer–like the exceptional camera and camera functions plus stylish waterproof design and long battery life–except for the enjoyment of a bigger screen and of course the price. The Xperia Z1c, which is currently available in Philippine market, retails for P25,490 and features a 4.3-inch Triluminos and IPS display.
A little backgrounder: The Xperia Z family of smartphones, which recently expanded to include the Xperia Z1 Compact and the Xperia Z tablet and the new flagship Xperia Z2, are the crème-dela-crème products of Sony Mobile. Of course, the company still has the mid-range handset offerings like the Xperia E1, the Xperia T2 and the Xperia M2.


Here are the key features of the Xperia Z1c, with quotes from fashion blogger Laureen Uy, Sony Mobile's Lifestyle Ambassador:
It is equipped with a 20.7 megapixel camera and incorporating BRAVIA TV technologies for mobile.
With Sony's stunning OmniBalance design, this device is both sleek and durable from every angle. Whether you are in the pool or out on a hike, this waterproof and dust-resistant smartphone fits neatly into your life, so you can use it anytime, anywhere.
"With my schedule filled with shoots and events, I need a camera phone that is as versatile as my lifestyle, a smartphone that I can easily pop up wherever I go from events to road trips, malls to beaches, because it is durable and most of all, waterproof," says Uy.
It features a dedicated camera button so it's easy for you take photos or videos underwater and never miss a moment.
The Sony Xperia Z1c offers a choice of dynamic color finishes to suit any individual taste. There's the lime and pink Xperia Z1c to suit individuals with outgoing lifestyle. Those who prefer a more classic feel can choose between black and white to achieve the elegant look.
"I love how the Xperia Z1c showcases my cheerful personality through its design. The lime green and pink are my personal favorites because it complements my summer style perfectly."
It's got social camera apps. Be your own tourist guide with the Info-eye app. By scanning the world's landmarks through the Xperia Z1 Compact camera, your smartphone automatically connects online to provide information and insights about the location.
With Social live, you can share the video from your travels in Facebook as a livestream broadcast and even interact with your friends' comments as it happens, recreating the ultimate interactive sharing experience.
"In the same way that I can create content, I need apps that allow me to maximize each experience by sharing it in real-time with my friends and followers via social media," shares Uy.
As part of the Xperia VIP program, Xperia Z1c owners can look forward to hassle-free ownership of a smartphone. In the event that customers encounter problems with their phones, the program promises the following services: free pick-up and delivery of the unit; free loaner handset while their unit is being repaired; and guaranteed 7-day turnaround time in key cities.
For more information on the Sony Xperia Z1c, visit the nearest Sony store or authorized dealer now or log on to www.sony.com.ph; like www.facebook.com/SonyPhilippines or www.facebook.com/sonymobilePH ; and follow Twitter and Instagram: @SonyPHInc.