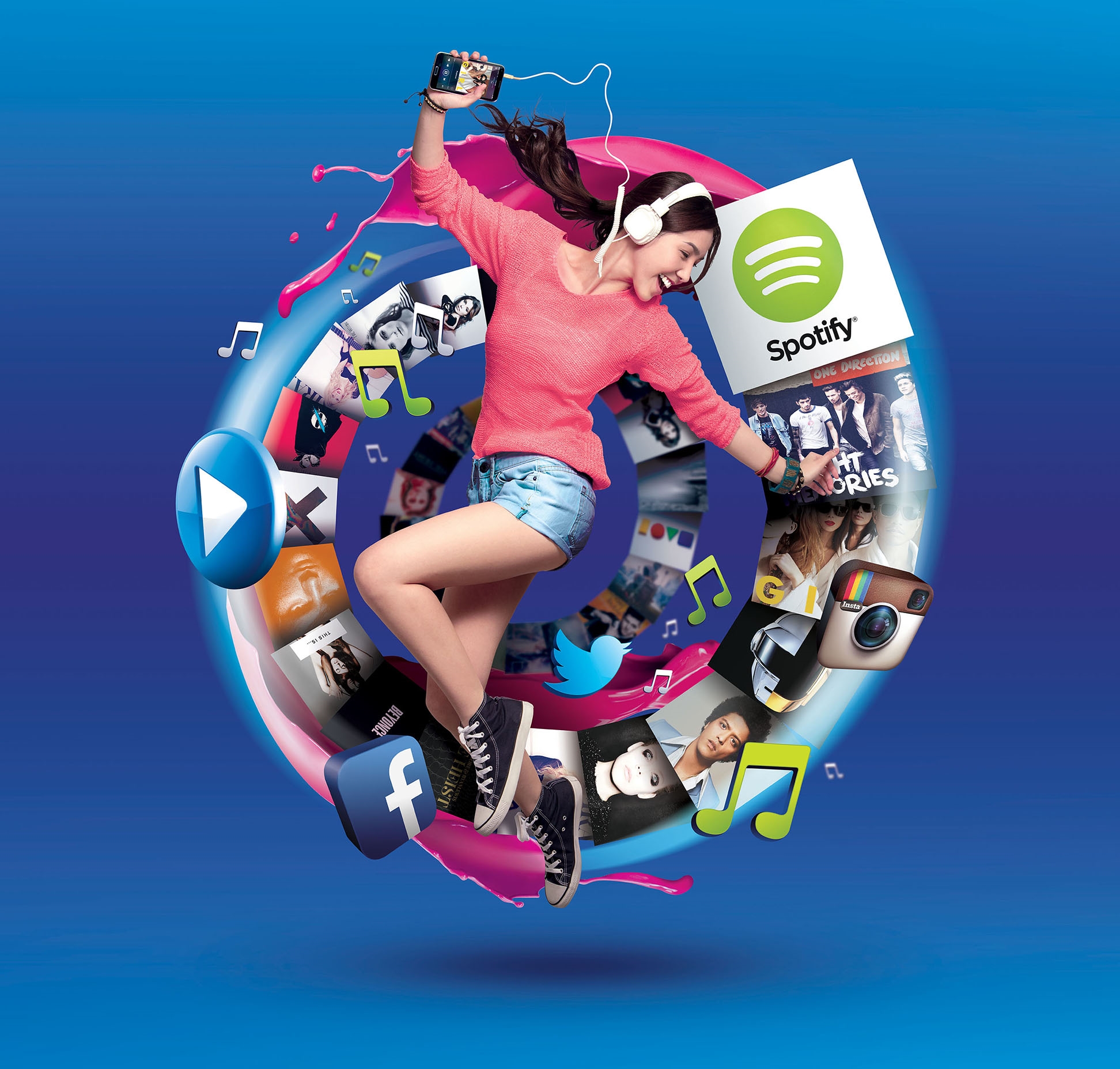 Globe Telecom announced new exciting offers that form part of its Project Wonderful.
These include GoSURF consumable mobile internet, GoUNLI20, a stand-alone voice and mobile surfing combo, Samsung Galaxy S5 with data offer, Tattoo Platinum fiber broadband, Business Flex and Business Plus for enterprise, and more.
Globe's Project Wonderful, consisting of three pillar: Nation Building, Culture-building, and Brand-building, aims to sustain Globe Telecom's growth, which in the first quarter of 2014 already reached 9% in service revenues and core net income.
With another ground-breaking collaboration with the world's biggest music platform Spotify, Globe launched its consumable mobile internet data plan GoSURF available to prepaid, postpaid, and Tattoo prepaid on-the-go customers with free access to Spotify.
Globe Prepaid has also introduced its first stand-alone voice and mobile surfing combo GoUNLI20, offering unlimited calls to Globe/TM customers, 15MB of data, and 20 texts to all networks for just P20 a day.
As the most affordable and easy-to-use prepaid voice and mobile data combo, subscribers can keep in touch through calls and browse through different social networking sites in one promo without the need for prefix dialing. It also provides value for money as the only prepaid promo that offers unlimited calls with free all-day surfing.
Globe also beefed up its Samsung Galaxy S5 portfolio with the availability of the device in blue and gold colors, giving subscribers more options when availing of the latest Galaxy smartphone.
Customers can get the Galaxy S5 for as low as P1,699 monthly at Globe mySUPERPLAN, complete with 5 gigabyte (GB) of GoSurf consumable data plan monthly, free calls and texts to all networks and free 6-month subscription to Spotify Premium for access to over 30 million songs.
For Android users who want to get the latest Samsung Galaxy S every year, they can avail of Galaxy Forever Plan 1599, Plan 1999 or Plan 2499. This comes with the new GoSurf data plan, unlimited calls and texts, free calls and texts to all networks, and additional monthly consumable for other services.
Broadband brand Tattoo has likewise seized more opportunities for growth in its Home and On-The-Go segments. Tattoo Home now offers Fiber-Fast home broadband connections ranging from 10 Mbps to up to 150 mbps available through Tattoo Platinum.
Tattoo Platinum comes with priority servicing and perks and privileges. Recently, Tattoo Platinum has started offering its plans that come bundled with the latest generation Apple TV.
Tattoo On-The-Go conversely has seen the potential in the tremendous tablet market growth with the launch of their new prepaid and postpaid tablet bundles.
Tattoo is now making it easier for customers to acquire their tablets with a wide range of models from entry-level tablets to the popular brands like Samsung.
Postpaid tablet bundles are now made more affordable for as low as P599 a month even more free browsing hours with no upfront cash out for the tablet.
Prepaid bundles give customers value for their money as tablets already come with a mobile Wi-Fi device that can power up to 10 devices making customers save as much as P2000 when they buy both devices separately.
Meanwhile, Globe Business segments also introduced various offers catering to their respective markets. The Enterprise Group highlighted its Business Flex and Business Plus, which empowers large organizations to create and customize postpaid plans around the services which they need.
Globe myBusiness highlighted solutions built for small and medium entrepreneurs (SMEs), specifically their CCTV (closed-circuit TV) product as well as Globe Charge, the innovative mobile point-of-sales device harnessing the synergy of a smartphone and a card reader dongle.
The IT-Enabled Services Group or IG announced its partnership with Google to offer Google Apps for Business, a set of cloud-based communication and collaboration tools designed to help increase work productivity of both large companies and SMEs, from anywhere on any device.
Globe also expanded its presence overseas, particularly in Europe, with the recent establishment of its office in Spain and the newest member of the Globe group of companies, Globetel International European Espana S.L., which will handle the offering of various telecommunications services such as voice, SMS, load top-up and mobile data in the said country.
For its disaster-relief and response efforts under the Nation-building pillar, Globe focused on rebuilding homes, schools, and livelihoods in targeted provinces strongly hit by Typhoon Yolanda as Presidential Assistant for Rehabilitation and Recovery (PARR)-appointed development sponsor in Aklan.