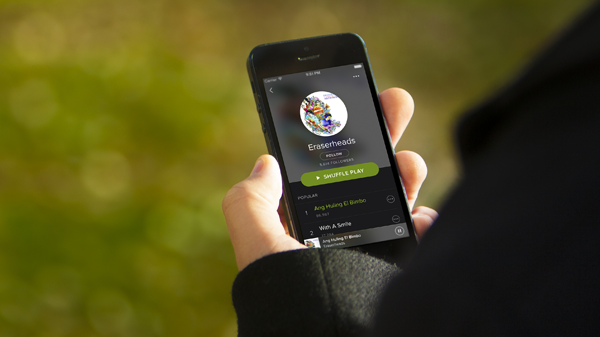 Popular music streaming service mixed with a social network feature Spotify has finally landed in the Philippines, making available its 30 million songs to Filipinos, who will enjoy not only songs by foreign artists but also Filipino talents .
Spotify partners with Globe Telecom to bring the service to the 38 million Globe Postpaid, Globe Prepaid and Tattoo-on-the-go Prepaid subscribers through the telco's new data plan, GoSURF. The service, which is accessible on mobile, tablet and desktop,  will made available through GoSURF starting April 13.
Spotify is currently the world's largest and fastest growing music service, with more than 24 million active users, 6 million of them are enjoying premium service. With 20,000 songs added to its service each day, Spotify now has a billion playlists, which also include a lot of original Filipino music. It was developed in Stockholm, Sweden by Spotify AB in 2006 and launched in 2008 as a commercial music streaming service providing digital rights management-restricted content from record labels.
For Globe subscribers, all they need to do to access Spotify in their smartphones or tablets is to avail of Globe's new data plan package GoSURF, download the Spotify app, and they can enjoy listening to the tracks or playlists.
GoSURF10 already gives you access to both 10MB of dataplus Spotify for 24 hours.
If you want to listen to the songs even if your device is offline, you can opt to get Spotify's premium service by getting GoSURF 299, which comes with 700 MB of data valid for 30 days. GoSURF 999 comes with 5GB of data plus Spotify Premium.
Apart from ability to play tracks while offline, Spotify's premium service also provides you with higher quality streaming than the free version.
According to Sunita Kaur, director of Spotify Asia, music streaming service, particularly the one offered by Spotify, has provided an alternative to piracy that tremendously affected the music industry. It encouraged people to listen to free music (similar to a terrestrial radio), while at the same time it helped artists earn their keep from their songs. "Every time you play a song, money is going back to the artist," she says.
Suria cites the music industry in Sweden, which has already regain back its earnings. She says  the service has helped in increase in revenue of the music industry by 70 percent, while song piracy significantly dropped to 25 percent. She says since its launch in 2008, Spotify has also paid a $1 billion to rights holders (the artists or musicians).
Along with its Philippine launch, Spotify also introduced its new redesigned interface.