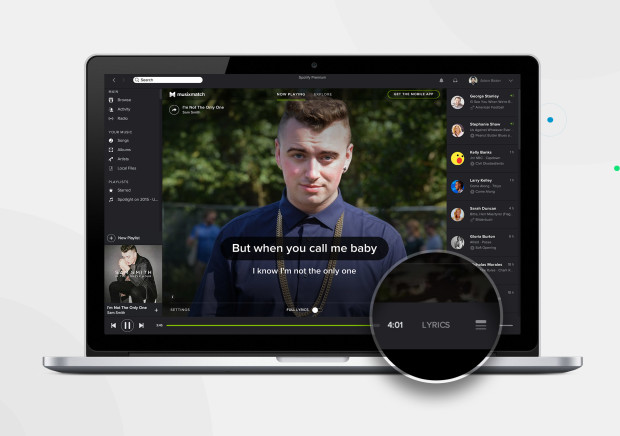 Spotify has launched a new desktop update that brings several new features, such as the inclusion of a Lyrics button that allows the user to sing along a music track karaoke style.
With the latest app integration, Spotify is making lyrics a seamless part of the experience on desktop. The new Lyrics feature is powered by Musixmatch, the world's largest lyrics catalogue.
Simply fire up any song and hit the new Lyrics button, located next to the play bar, to start singing along. Popular lyrics from Spotify top songs can also be searched using the Explore feature.
Spotify is not only making your next sing-along better because rolling out to desktop users in the coming weeks are updates that brings several improvements to some features across the desktop experience.
The new and improved Friend Feed makes it easier than ever to discover what the people you care about are listening to. Simply scroll down the sidebar to see what playlists, songs and artists your friends are enjoying right now.
Spotify is also revamping the charts by introducing daily viral charts, serving  the most shared tracks, as well as local region based play counts. Additionally, all charts now feature indicators to highlight new music and how tracks are performing day by day.
"We're excited to bring an update to one of our key platforms – one that makes the experience smoother and introduces some great features and integrations" says Dave Price, Director of Product at Spotify. "Following in the footsteps of previous successful app integrations such as Songkick, we're thrilled to bring desktop listeners such a sought-after feature as lyrics."
The integration of Musixmatch brings one of the most popular apps into the main Spotify desktop experience, joining partners like Songkick and Topspin. Additionally, Spotify have worked with BBC Playlister, Swarm, Digster, Filtr and others to create richer experience that would complement Spotify to form new music experiences.
With these new app experiences, as well as the latest tools for developers, Spotify is now phasing out the App Finder and third-party applications from the desktop client.
This update will roll out gradually to all desktop users.