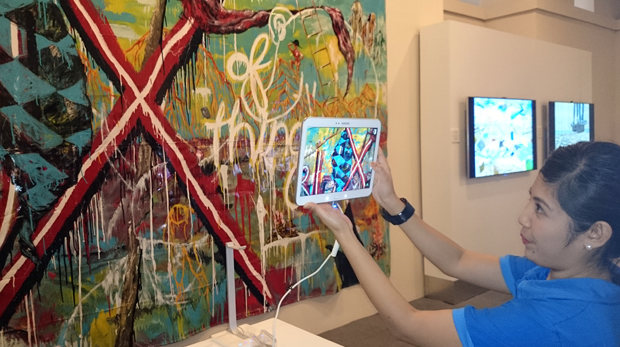 Samsung Electronics Philippines Corporation has partnered with Yuchengco Museum for the latter's ongoing "Relative Realities: Creating New Dimensions of Art through Technology," a digital art exhibit and immersive experience featuring the works of six contemporary Filipino artists.
The exhibit showcases the artworks of six especially invited Filipino artists from a wide range of creative practices: printmaker Ambie Abaño, painter Ernest Concepcion, painter Jason Montinola, sculptor Leeroy New, visual artist Arturo Sanchez, Jr., and multimedia and performance artist Josephine Turalba.
Relative Realities is another project of Samsung that focused on art advocacy in the Philippines. In December last year, Samsung partnered with Ayala Museum for "Ayala Museum's Masterpieces Exhibit," a digital art gallery installation.
As another "Art Meets Tech" project, Relative Realities is powered by Samsung's Ultra High Definition Smart TVs and tablets, and is supplemented by a mobile app called FACETS, which uses augmented reality technology to create new museum experiences.
Yuchengco Museum curator Jeannie Javelosa says the exhibit hopes to attract the young generation, who are users of technology, to appreciate art by using their mobile devices. She says the Facets app developed by Samsung for Yuchengco Museum, which can be downloaded from Google Play store, will help the museum reach thousands of people.
Relative Realities is an exciting and novel way for today's young generation to appreciate a museum exhibit. It goes beyond the traditional museum experience of presenting art on a pedestal or wall.
By scanning an artwork using FACETS app in an Android smartphone or tablet, museum goers can experience the works they see in a whole new light.
FACETS provides information about the work and the artist or even 3D graphics, video, animation, or sound.
"We want to break the practice where the museum's curatorial direction of an exhibition collection sets the pace for the appreciation and understanding of art. Would not art be best understood in the pureness of subjectivity—where the artist presents and the viewers formulate their own understanding and experience of the artwork?" says Javelosa.
FACETS is short for Futuristic Art Creations Enabled by TVs and Smart devices. The mobile application features not only the artworks in Relative Realities, but also select paintings on view at the Yuchengco Museum's Masters Gallery. Through the app, guests can learn about the museum's master works, their styles, the meaning of their works, and their place in the development of Philippine art.
After the month-long exhibit, the artworks highlighted in Relative Realities and select pieces from the Yuchengco Museum Collection will be incorporated into the new Samsung Digital Gallery at the museum's third floor. The space will offer visitors an opportunity to create new human experiences where they can interact and learn more about the artworks they see at the museum. The Samsung Digital Gallery is due to open to the public in September 2014.
Relative Realities is on view at Yuchengco Museum from August 7 to September 8, 2014. Yuchengco Museum is located at RCBC Plaza, corner Ayala and Sen. Gil J. Puyat Avenues, Makati. Museum hours are Monday to Saturday, 10 a.m. to 6 p.m. For more information, call (632) 889-1234 or visit www.yuchengcomuseum.org.