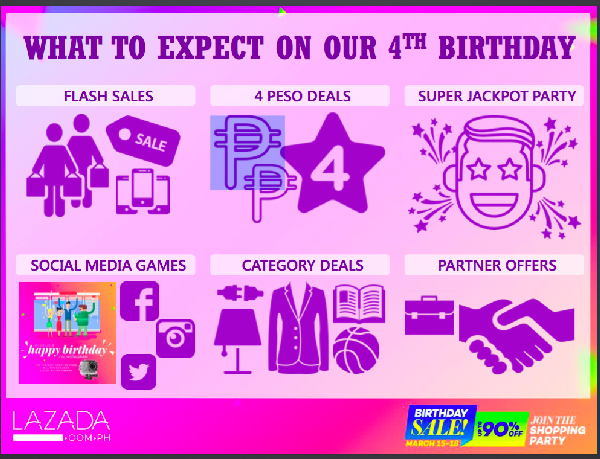 Southeast Asia's leading online shopping and retail destination Lazada Philippines (lazada.com.ph) is celebrating its fourth year in the country with a four-day Birthday Sale from March 15 to 18.
Lazed PH's Birthday Sale will offer deals of up to 90% discount across a wide selection of categories, including Home, Living, Travel and Luggage, and Consumer Electronics.
Well-known brand partners including Samsung, Microsoft, Tosot, Unilever, Nestle, and Belo will also participate in the sale offering special promotions throughout the celebration.
The great sale will include hourly flash deals, Php 4 Sale, Jackpot games for additional discounts, Facebook and Instagram games where customers have a chance to win a TV and smart phones.
Customers who purchase Cherry Mobile tablet or smartphone during the four-day sale will also get a chance to win a trip to Dubai.
During the press event announcing its 4th anniversary sale, Lazada also announced its new brand ambassadors LA Aguinaldo and Kelsey Merritt. The two, according to the online company personify Lazada's fun and effortless vibe, will join the country's largest online party.
Even though it's been here in the Philippines for only four years, Lazada has grown rapidly, with 60 percent of Lazada customers shopping via mobile.
Lazada PH has 7,000 merchants, which comprise mostly of SMEs.
"In our four years of operations in the Philippines we have seen tremendous opportunity for SME's in the e-commerce industry. We currently have 7,000 merchants onboard, and continue to make enhancements in our sellers' platform to encourage more entrepreneurs to sell online. We commit to provide logistics capabilities to make selling more effortless for our merchants," according to Inane Balci, Lazada Philippines CEO.
Balci said the company is working on increasing product assortment, expanding logistics infrastructure, and introducing payment solutions to "further enhance the effortless shopping experience of our customers."
The company's plan for the future include the development of a new warehouse in Cabuyao, Laguna, which is scheduled to be completed by the end of the year.
The site called Fulfillment Center will have automated features for inventory, selection, parcel movement and dimensional weight measurement.
Lazada's in-house delivery arm Lazada Express is in the process of upgrading its Sortation Center and plans to open 20 hubs throughout the country to increase delivery footprint and reach.
As part of Lazada's commitment to make shopping more effortless for everyone, an express delivery option will be launched in Metro areas for rush deliveries.