Quad camera, a new trend in smartphones, is a feature found mostly in premium-priced flagship smartphones, but realme Philippines is changing all that with the recently introduced realme 5 Pro and realme 5, the global brand's first quad-camera smartphones which are priced below the Php15k for the realme 5Pro and below the Php10k for the realme 5.
Realme 5 Pro, which is already powered by Snapdragon 712 mobile processor and features flagship IMX586 48MP quad-camera setup, costs Php 11,990 for the 4GB-128GB model, and Php 13,990 for the 8GB-128GB variant.
While realme 5, powered by Snapdragon 665 mobile processor and equipped with 12MP quad-camera setup, is priced at Php 6,6990 for the 3GB-32 GB variant, Php 7,990 for the 3GB-64 GB variant, and Php 9,990 for the 4GB-128 GB variant.
Realme 5 Pro's and realme 5's quad-camera setup comprises of an ultra-wide-angle lens, main camera, portrait lens and ultra-macro lens. The battery life is also notable as both smartphones feature high-capacity batteries– 4,035mAh high-capacity battery for the realme 5 Pro and 5000mAh large-capacity for the realme 5.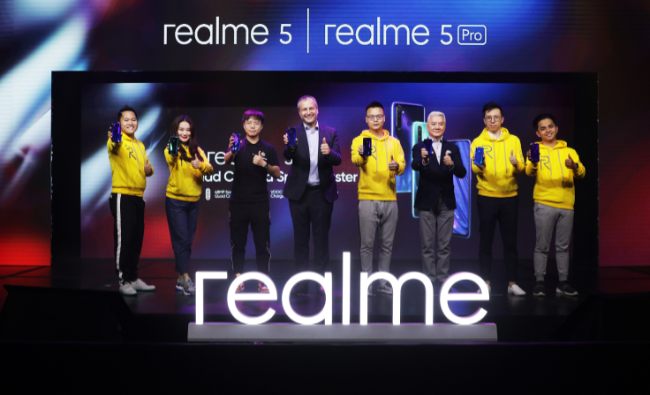 "We at realme Philippines are thrilled to revolutionize the smartphone experience of the Filipinos by leading the leap to attainable quad camera technology, which marks realme's new era of smartphone imaging technology. By bringing the realme 5 Pro and realme 5 to the Philippine market, we put an end to the notion that only flagship phones can have premium features. Both these cutting-edge devices are a testament to our steadfast commitment of providing Filipinos, more specifically the youth, with the smartphone experience they deserve," says realme Philippines Marketing Director Austine Huang.
realme 5 Pro's 48MP camera and more
For a sub-Php15k smartphone, realme 5 Pro specs include a Qualcomm Snapdragon 712 AIE processor and a Qualcomm Adreno 616 GPU, which improves the phone's graphics performance and energy efficiency by up to 35 percent.
The realme 5 Pro features a 6.3-inch FHD+ screen (dewdrop design) and is vailable in two variants – 4GB RAM+128GB storage and 8GB RAM+128GB. The realme 5 Pro sports holographic color, which under a light projects a rich layered visual. It is available in Crystal Green and Sparkling Blue colors.
Realme 5 Pro's quad-camera setup comprise of an 8MP 119-degree ultra-wide-angle lens, a 2MP portrait lens, a 2MP ultra-macro lens and a 48MP Sony IMX586 main camera that features sensor optimization to deliver higher-quality images.
Realme 5 Pro also features a 16MP front camera with f/2.0 aperture and Sony IMX471 image sensor with 5sP high-concentration lens.
There are Nightscape and Chroma Boost modes (original to realme smartphones) and slow-motion video recording in 960fps and 720p. Users can also edit videos on the device, allowing them to adjust video speed and add filters, text and soundtrack effects. The smartphone also supports a 20W VOOC 3.0 Flash Charge Technology.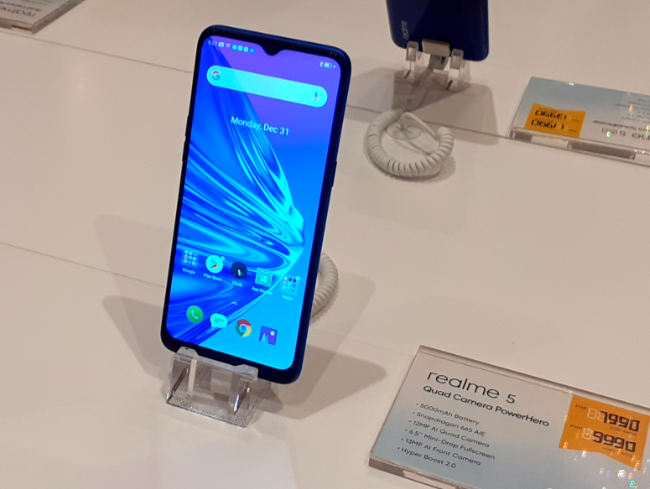 realme 5, first quad-camera smartphone under Php10k
The realme 5 runs on a powerful Snapdragon 665 processor 2.0GHz clock speed. Its Adreno 610 GPU guarantees great visuals and allow users to play a variety of mobile games with a seamless experience. A 6.5-inch HD+ mini-drop full-screen display allows users to enjoy an immersive smartphone experience excellent for gaming and video marathons.
The realme 5, which features a 6.5-inch HD display, comes in three variants—3GB RAM+32GB storage, 4GB RAM+64GB and 6GB RAM+128GB. It boasts of the largest RAM and storage combinations in the market today. It features a 5000mAh large-capacity battery, allowing users to take advantage of the phone's features all day long.
Realme 5's AI quad-camera setup features a 12MP primary camera. Its phase-detect autofocus (PDAF) guarantees rapid and precise focus. It's got 8MP 119-degree ultra-wide-angle lens and ultra-macro lens. Its 13MP AI front camera optimizes the selfie beauty function for the best self-portrait.
Chroma Boost mode and Nightscape mode are also present, in addition to video function that can also record slow-motion videos in 240fps and 720p.
Realme 5 comes in two color variants: Crystal Blue and Crystal Purple.
Availability of realme 5 Pro and realme 5
The realme 5 Pro is available offline and pre order will run from October 4 to October 11 with a minimum deposit of Php500. Purchasers may claim their brand-new devices on October 12 in all realme kiosks and partner stores nationwide during realme's first day sale. Those who will pre-order will receive a realme 10,000mAh power bank worth PHP1,599.
Those keen on purchasing the realme 5 Pro online may avail of the device through pre-order starting October 3 until October 8 in Lazada. Realme 5 Pro smartphones pre-ordered online can be redeemed beginning October 9. On the same day, October 9, at exactly 12 midnight, realme will be holding its very first Lazada online sale for the realme 5 Pro.
The realme 5 will also be available in all of the 4,500+ realme kiosks and concept stores nationwide on October 3 starting 7:30PM. While the 3GB+32GB variant of the realme 5 will be exclusively available through online platform Lazada.
Both devices may also be availed through a Home Credit plan. The 8GB RAM and 128GB storage variant of the realme 5 Pro may be availed through a 6 or 9-months 0 percent interest plan while the other storage variants of the realme 5 Pro and realme 5 may also be availed through a 6-month plan at 0 percent interest.
Customers are encouraged to follow the realme official Facebook, Twitter and Instagram accounts. Purchasers of the realme 5 Pro and realme 5 are also welcome to join the realme community on Facebook to see the latest news and discussions about the brand. Members also get exclusive invites to gatherings, special offers and many more.