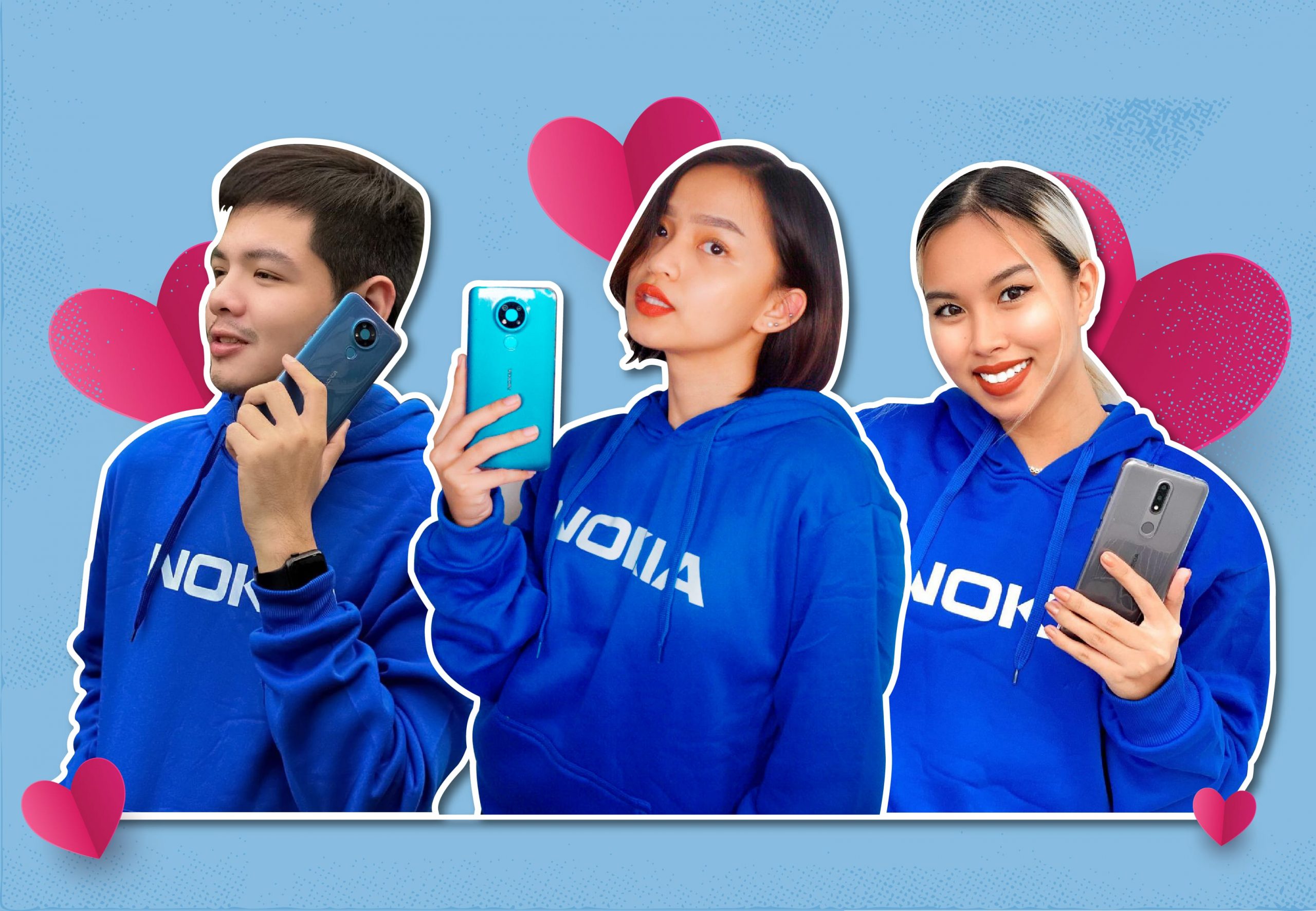 HMD Global, the home of Nokia phones, gives fans the perfect gift of trust and reliability this Valentine's Day with the Nokia 2.4 and the Nokia 3.4. Starting today, the Nokia 2.4 and the Nokia 3.4 will be available at a special price to help fans stay connected with their loved ones this Valentine season.
Fans can get the Nokia 2.4, which comes with 3GB+64GB memory in timeless Charcoal, for Php5,990, down from its original price of Php6,990. The Nokia 3.4, which comes with 4GB+64GB memory and two colour variants – vibrant Fjord and timeless Charcoal – is now available at Php6,990, down from its original price of Php7,990. Fans can grab these latest Nokia phones from online retail stores, kiosks and shop-in-shops nationwide, and through nokia.com/phones.
As we spend the month of love following quarantine guidelines during this lockdown, top-notch technology makes it possible to ease the strain of disconnection through virtual meetups. See how people like you are using Nokia smartphones to keep in touch:
Screens that bring us closer
Not being able to be with our loved ones physically has been a struggle for the most of us ever since quarantine restrictions were implemented. Ysabella Sabay, a lifestyle and fashion influencer who goes by @heyysabella on Instagram, is now taking full advantage of technology to remain close to her loved ones whilst practicing social distancing.
Ysabella says, "As a creative person, I encourage people to get innovative to stay connected. Living far away from my parents who I miss the most, the Nokia 2.4 has been a big help with maintaining our connection. Its big screen lets me see my parents clearly during our video calls so I feel close to them even if we're miles apart. The Nokia 2.4 is such a great help with its convenient features and the brand's strong name in the world of mobile phones. It truly is a must-have!"
Ysabella also loves watching 'kilig' movies and recommends the Nokia 2.4 as the perfect movie buddy. With the Nokia 2.4's 6.5-inch screen, fans can enjoy an immersive HD+ display that maximises the screen for that elevated viewing experience at an accessible price.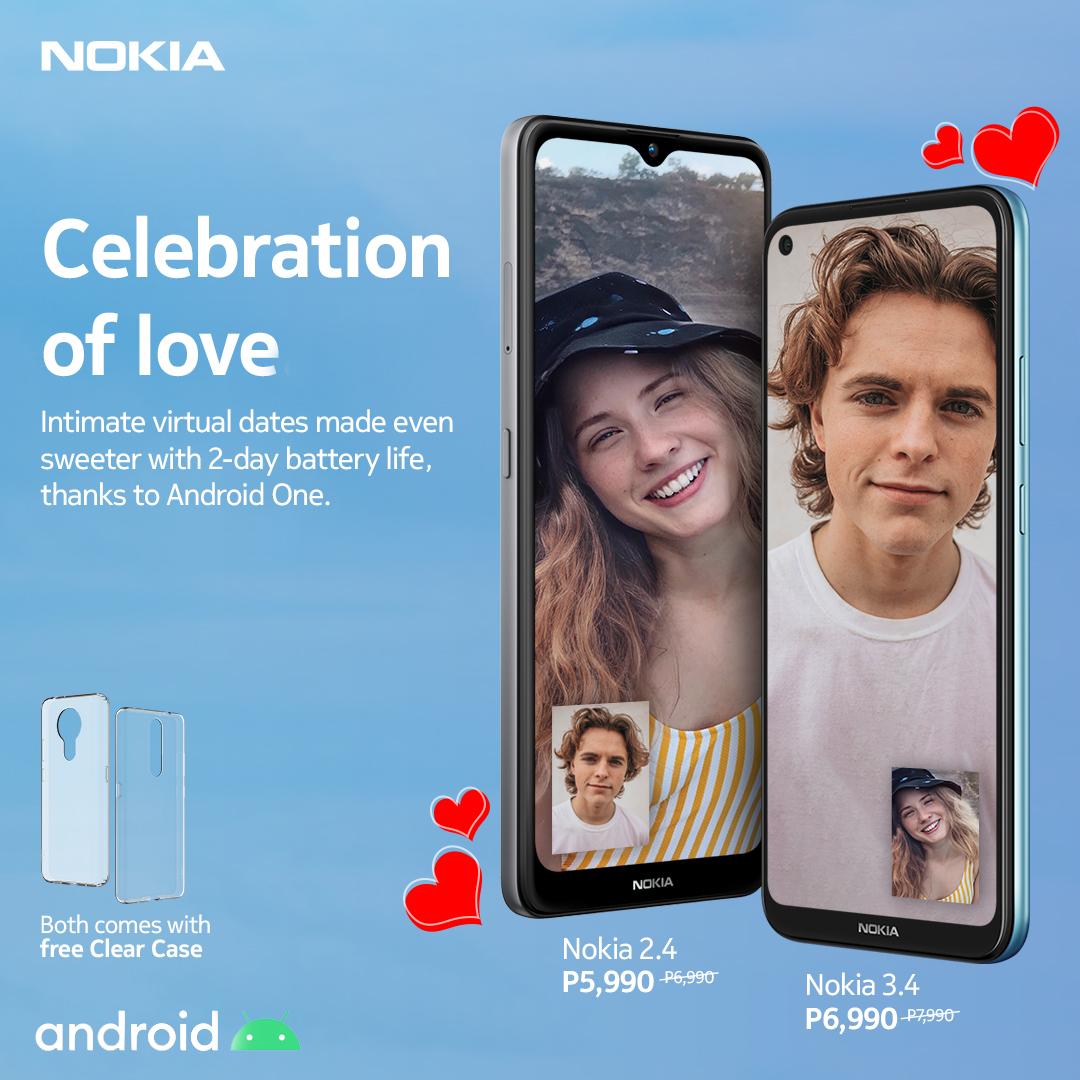 Just like the Nokia 2.4, the Nokia 3.4 also has a large screen that levels up the gaming experience. With its impressive 6.39-inch HD+ screen with punch-hole display, it delivers even more screen real estate for couples who play online games together on their virtual dates and lets users maximise both entertainment and work. Its newest Qualcomm® Snapdragon™ 460 Mobile Platform with up to 70 percent performance upgrade, compared to the previous generation, allows for seamless and better gaming performance.
Creating memories with images that last
Vanessa Navarro, or @vnssnvrr on Instagram, is a fashion and lifestyle content creator who likes spending Valentine's Day with her boyfriend and friends outdoors doing what they love most – photography. This year and with social distancing protocols in place, they continue their Valentine's Day tradition at home.
Vanessa and her friends stay connected by sharing fun and creative glam shots through social media. They enjoy posting their creative work on their pages and love giving out 'hearts' to each other's posts. With reliable technology, they never miss out on each other's updates.
As Vanessa shares, "My favorite thing about the Nokia 3.4 is its camera and how it can really capture what my eyes can see — every space and every corner of all my favorite places. With photos taken using the Nokia 3.4, I can easily share all the beautiful locations I have been to with my best friends who both live hours away from the metro. The Nokia 3.4 is the way to go! It's perfect for anyone aiming for great photos but are on a budget."
Find deeper connections with your loved ones online by posting super-powered pictures taken with the Nokia 3.4's triple camera AI imaging. Fans can snap like a pro with the portrait mode's artistic background blur effects, allowing adjustment of the focus even after you've taken the picture. Users can nail the shot in low light with night mode's powerful image fusion and exposure stacking capabilities to capture every detail. The 5MP ultra-wide camera can fit everything in the shot to create memorable photos.
The Nokia 2.4 also has its own impressive camera features that let fans photograph their desired detailed night and portrait shots, fuelled by its AI imaging. Moments worth capturing don't always happen in the light of day, making the Nokia 2.4's night mode with advanced image fusion and exposure stacking, the perfect tool for capturing vibrant detail even in darker conditions. Like the Nokia 3.4, it has the same portrait mode with portrait editor that allows refocusing and editing pictures after snapping, making for instantly shareable and unique shots.
Making longer calls, worry-free
Valentine's Day can be for family, too. Heaven John, a lifestyle influencer and digital creator known as @hebenjan on Instagram, finds that the best way to maintain his strong family bond with his relatives who live a continent away is through voice and video calls.
"Celebrating V-day face-to-face is fun, but it is still safer to celebrate online nowadays for extra precaution. I video call with my mom all the time, sending love from the Philippines to Sydney, Australia during Valentine's Day using the Nokia 3.4, and its two-day battery life never disappoints me. I never have to worry about looking for a power outlet when I'm outside my house! It's so convenient. I recommended the Nokia 3.4 to my family and friends because like me, most of them spend a lot of time on their smartphones and I'm sure the Nokia 3.4's performance will definitely be worth their while," said Heaven.
Both the Nokia 2.4 and Nokia 3.4 provide better performance than their predecessors and let users do more of what they like for longer with their signature two-day battery life. The AI-assisted adaptive battery learns what apps are frequently used and prioritises power for them, enabling users to use more of the features they love without worrying about running out of juice.
Nokia smartphones deliver on their pure, secure and up-to-date promise by bringing an excellent software experience with a streamlined interface and no bloatware. Part of the Android One programme, both the Nokia 2.4 and the Nokia 3.4 ensure that fans can enjoy the latest Android features and security, promising three years of monthly security updates and two years of software upgrades.
These special price cuts are up for grabs at the official Shopee store: Nokia 2.4 and Nokia 3.4.