Like what I've written about in Inquirer.net (http://technology.inquirer.net/2154/samsung-monitors-now-have-tv-3d-functions/), PC monitors are also getting sort of "reinvented" similar to the TV.
Samsung has introduced three super slim PC monitors, which are equipped with features found in the latest Samsung slim TVs and more.
This is a 27-inch sleek 3D monitor that is positioned as a gaming display. It is capable of converting 2D format to 3D format, so I would imagine the joy of a typical gamer who can now enjoy instant 3D games by still playing his or her old 2D games.
What's more, the conversion isn't only limited to games as the monitor can convert many formats, which include movies.
The 3D monitor comes with a pair of bulky battery-operated 3D glasses. Samsung has yet to rethink/reformat its 3D technology, which would require light glasses.
Anyway, for P30k plus, this 3D monitor is really cheaper than buying a 3D TV.
This 19-inch LED monitor, capable of PIP (picture-in-picture) technology has an internal TV tuner, which isn't really a new technology as other brands already have TV tuners. Some people even attach TV tuner onto their monitors to make them function as a TV. But the good thing about this new monitor is the PIP, which allows you to multitask by using several windows.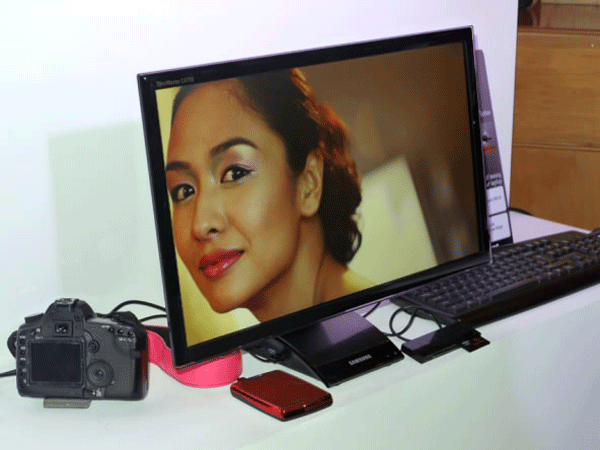 This is the Samsung Central Station, a monitor that has a docking base filled with ports found in the CPU and one port is HDMI already. As can be seen in the photo, you can easily attach a camera, external hard drive, a keyboard, etc.
Why have a docking station with ports in a monitor, when the CPU already features the same ports, you ask? The function is actually to make a clutter-free work station. Typically, when using the ports of a PC desktop, cables get entangled and it really does require an effort to reach the back of the CPU when plugging devices.
Another interesting feature of this monitor is its wireless display capability, which means you can wirelessly connect your laptop to the monitor, making it your bigger monitor to work on files such as photos.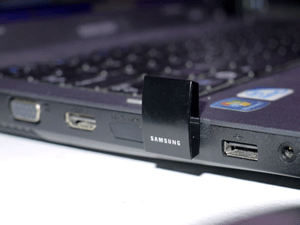 To be able to execute the wireless display function, you need to insert this Wi-Fi USB dongle onto your laptop. The USB stick comes free with the monitor.