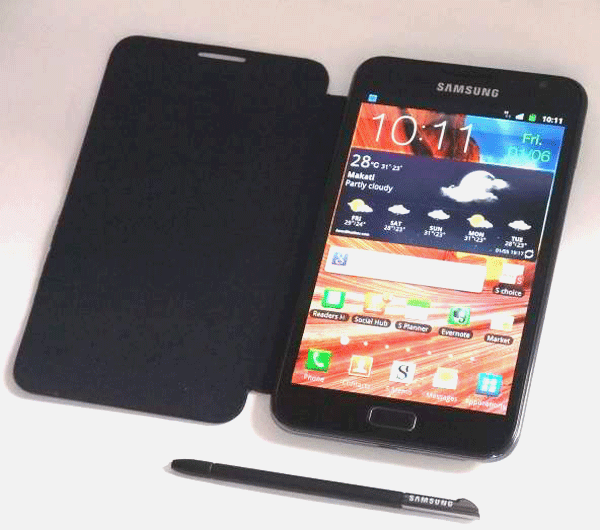 Touch screen devices that came with a stylus isn't a new concept.
First generation PDAs and smartphones that ran Windows Mobile OS before, when Android and iOS were still unheard of, had stylus. But the stylus function of these devices was limited only to precise pricking on the screen, such as marking  "yes" and "no" boxes or check boxes. It served the purpose of making precise screen pressure for users with rather big fingers.
Besides, the touch screen surface back then responded well only to stylus input. It was only when Apple's iPhone was introduced that the concept of a screen that responds to real touch really took off.
Today, in the digital era defined by cloud, Android, and iOS, touchscreen devices with stylus resurfaced again.  Lenovo came out with the business tablet running on Android called the ThinkPad Tablet and it comes with a "digitizer pen." While Samsung came out with the Galaxy Note, a "super smartphone-tablet hybrid" powered by a dual core 1.4 GHz CPU, which comes with the "S Pen."
I have toyed with the ThinkPad Tablet, but for a brief period only, so I couldn't really tell a lot about it in terms of experience or how useful it is for me.
But I do I own a Galaxy Note (under a data plan), which I have been using for almost two months now. It is a hybrid tablet and smartphone, the latter function I rarely use except for Viber, a voice over IP application like Skype that also runs in iPhones.
I use the Galaxy Note more as a tablet. It's the perfect size for me. It's easy to put in my bag and I bring it out whenever I feel an idea's coming and needed to be written down ASAP.
The stylus in Galaxy Note functions for writing down "handwritten" words, which can be recognized and edited in Word or any other Office or Note application. It can also be used for drawing, painting, or doodling ideas as the Galaxy Note comes with good Note application called the S Memo. It allows you to not only chat down handwritten notes, but also write notes on images or photographs that can be sent to others via email, social networks, or SMS.
I also find the app Skitch (free from the Android Market) so useful for this function as well. Compared with the S Memo graphics/images, the Skitch made JPEGs are bigger and clearer and easier to share via cloud.
The Galaxy Note has a screen saving function and coupled with the Stylus–the efficiency for work function of this portable device is brought to a new level.
For example, screen saving a map or location and writing down notes on it telling an officemate of the location of a meet up. Another possibility is storing ideas, like screen saving a page layout and writing down a reminder on it—to be retrieved later or shared with others for collaborative work. Or screen saving an email page containing a document and then correcting the grammar on the page by writing proofreading marks, and then emailing it back to the office. And you can do all this while you are in a cofffeeshop in a mall—using the Galaxy Note doesn't make you look like you are working at all.
Smartphones and tablets have been marketed as fun devices. Galaxy Note is a fun device. Apart from a very powerful CPU, it's got a very bright screen (5.3 " HD Super AMOLED touch screen, IPS panel and scratch resistant Corning Gorilla glass). All these specs are good for enjoying games.
I've already installed several games, such as Plants Vs. Zombies (which is fun to play on a touchscreen device) and other free games in the Android Market. You can also download a lot of free applications from Samsung Apps Store. I downloaded the Zen Brush, which is a good app for creating personalized greeting cards or a drawing.
Galaxy Note won't be labeled a super smartphone had not been for its 8 megapixel camera that can take videos in full HD. The amazing thing about the camera function is that you can zoom in and out images while in recording mode by swiping the screen and the camera lens immediately auto focuses. The camera function of the Galaxy Note is really commendable. It auto fixes shots done in low light. The photo editing app is also cool as it allows you to isolate images using the stylus to allow for editing like putting more color or dimming the background.
I have uploaded some videos of how the Galaxy Note works:
The Galaxy Note is the perfect smartphone/tablet for me, but I rather find the battery life lacking. Heavy use of the device can only provide you with up to a day and less than a day when you use the Galaxy Note as a tethering device for Internet. So I always bring the charger with me.