Asus has finally unveiled the PadFone at the Mobile World Congress Barcelona Spain on Tuesday, February 28.
The anticipated device is actually a touch smartphone that can be inserted into a 10.1 inch tablet called the PadFone station—thus enabling the phone to be more than what it is. The combined devices can even transform into a notebook when put on a PadFone Station Dock.
The Asus PadFone specs are noteworthy. The 4.3" smartphone has a Super AMOLED qHD display, the latest Qualcomm Snapdragon S4 dual-core processor and an ultra-sharp 8-megapixel digital camera with Fuji image processor all wrapped in an exquisite design that is optimized for Google's Android 4.0 operating system.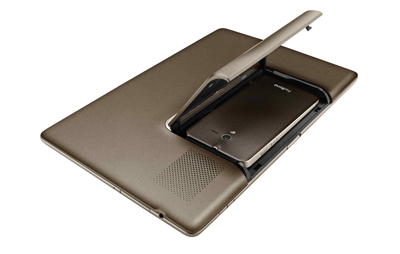 When placed inside the optional PadFone Station, it transforms into a 10.1" tablet with 5 times the battery capacity.
The PadFone Station offers an optional keyboard dock that essentially turns the PadFone into an ultraportable computing device and further extends the battery up to 9 times. The PadFone also comes with the option of a PadFone Stylus Headset which is a Bluetooth stylus pen that transforms into a headset for picking up calls easily.