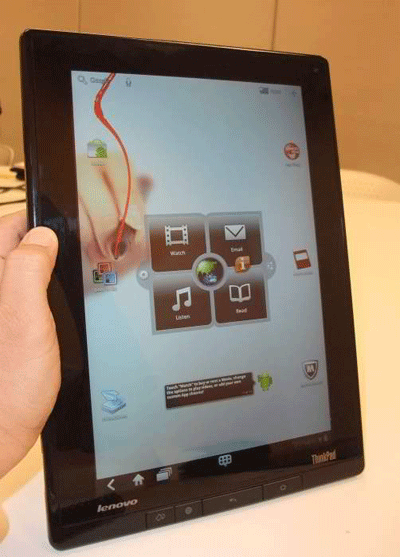 This is Lenovo ThinkPad Tablet, a 10.1 inch Android-Honeycomb-run tablet powered by dual core NVIDIA Tegra 2 mobile CPU.
With the new ThinkPad Tablet, Lenovo has come out with the first Android tablet intended for enterprise or commercial use.
The tablet has strong security and manageability features that organizations really look for when getting a PC product for company use.
So far, it's the only Android tablet that features full-size HDMI port and full-size USB port. It can also accept a full-size SD card apart from having a pen stylus and hardware keys for accessing Home, List, and Back functions of the Android OS.
It also comes with an optional keyboard dock wrapped in leather, which you can fold into this:
Here's a video product demo, with keyboard dock and without:
More details in my story published at Inquirer.net: http://technology.inquirer.net/3765/with-android-powered-thinkpad-line-lenovo-gets-really-serious/