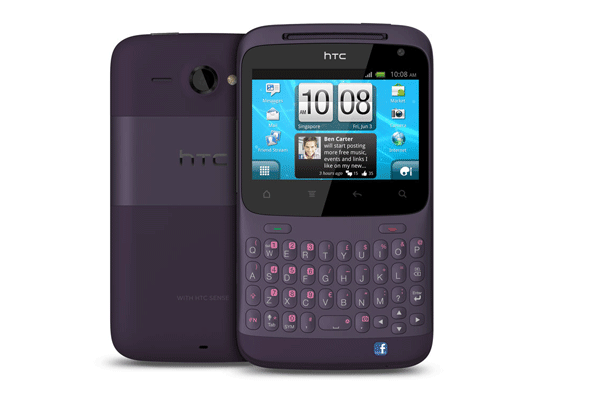 Every smartphone and feature phone out there have a Facebook client. It's a software represented by a widget that once tapped or launched instantly takes the user to Facebook for mobile device.
HTC has recently introduced the HTC ChaCha, a QWERTY touch phone that features a dedicated Facebook button. The phone was developed in close collaboration with Facebook and actually recommended by a Facebook official.
The particular hardware button makes the HTC ChaCha really a hardware extension of Facebook, which is now considered a major reason why people spend time online using their mobile devices.
This writer who covers technology beat for the Philippine Daily Inquirer has played with the ChaCha during a product demo.
Here are the actual photos of the HTC ChaCha, which comes in colors of purple, white, and black.
A long press of the blue "F" button takes the user to a Facebook Wall, where he or she can share a post, photo from the gallery of the phone, or even use the camera, take a photo and post immediately to the Wall.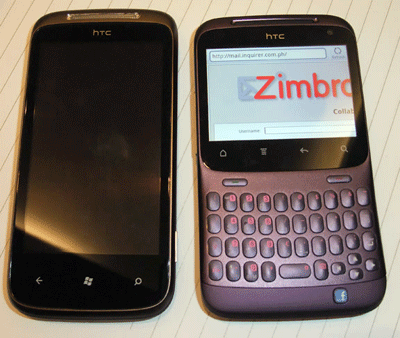 The HTC ChaCha is a bit wide and a little short compared with my HTC Mozart, but nonetheless offers a comfortable grip.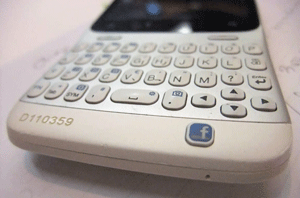 The dedicated "F" button pulses with light, suggesting that you may share content like music, photo, and location.
The Wall Post is another application not tied directly to the Facebook client, but is launched immediately upon pressing the F button.
Taiwanese smartphone maker HTC is known for nice high-end designs and the HTC ChaCha has got the "looks" so to speak.
HTC ChaCha specs:
 Processor 800 MHz
Operating system Android™ with HTC Sense™
Memory ROM: 512 MB
RAM: 512 MB
Dimensions 114.4 mm (L) x 64.6 mm (W) x 10.7 mm (T)
Weight 120 grams (with battery)
Display 2.6-inch touch screen with 480 x 320 resolution
Network HSPA/WCDMA (900/2100 MHz) GSM/GPRS/EDGE (850/900/1800/1900 MHz)
(Band frequency, HSPA availability, and data speed are operator dependent)
Internet 3G:
Up to 7.2 Mbps download speed
Up to 384 kbps upload speed
GPRS: Up to 114 kbps download speed
Wi-Fi®: IEEE 802.11 b/g/n
Tethering USB and Wi-Fi® tethering
GPS: Internal GPS antenna
Sensors: G-sensor
Digital Compass
Proximity Sensor
Ambient Light Sensor
Connectivity: 3.5 mm stereo audio jack,
Standard micro-USB (5-pin micro-USB 2.0)
Bluetooth 3.0 with FTP/OPP for file transfer
A2DP for wireless stereo headsets