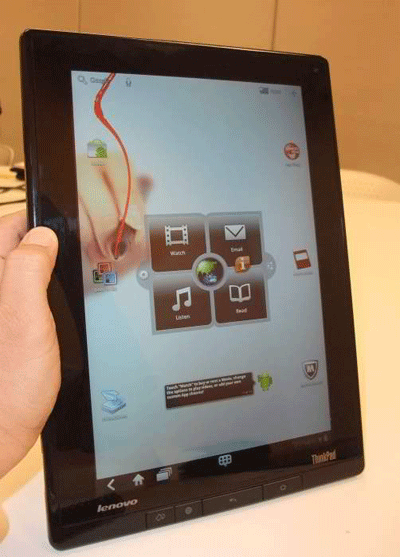 Top 2 PC vendor in the world Lenovo, which has recently expanded into non PC products such as the tablet, sees the future of the tablet more as functioning as a tool for enterprise use.
Launched regionally in Singapore, Lenovo's ThinkPad Tablet for business use is now available in the Philippines with a launch price of P28,000.
The 32 GB capacity ThinkPad Tablet features a pen stylus and full-size USB port and full-size SD card reader–features that render the tablet to be a bit thicker than consumer-targeted tablets out there.
Lenovo differentiates its business tablet by incorporating security feature as the tablet has access to Lenovo's full portfolio of enterprise-level services such as ThinkPlus Support.
ThinkPlus Support provides business customers direct access to advanced technicians with tablet and Android specific experience.
There's also Lenovo's Tablet Protection, which gives business customers coverage for non-warranted damage from operational and structural damage due to drops, minor spills, electrical surges and other accidental damage incurred under normal operating conditions.
In addition, Lenovo's Imaging Services help save IT departments from having to do custom images for each machine, and ensures that even with flash images, the warranty is protected and the tablet is ready-to-go right out-of-the-box.
Confidential data, on the other hand, can be safeguarded through security features that include full device and SD card encryption, port blockers, and secure email access.
The ThinkPad Tablet comes preloaded with McAfee Mobile Security app to ensure full protection from theft, data loss and viruses.
The ThinkPad Tablet is also pre-enabled with Computrace Mobile app, which can remotely track down the tablet—in case it got lost– disable it and/or delete sensitive data.
The ThinkPad Tablet also enables the business customers to do more sharing. With its micro-USB port, data transferring to and from the PC can easily be done. With the built-in, full-size SD card reader, full-size USB port and Lenovo's unique file copy utility, sharing files across devices is made more convenient.
Save, sync and share large files between team members and offices with integrated cloud storage (2GB free). Display presentations and videos in HD on an external monitor with the mini-HDMI port.
The ThinkPad Tablet already runs on Android Honeycomb 3.1 and as such has access to more than 250, 000 apps in Android Market as well as apps tested for Lenovo devices in the Lenovo App Shop.
Research firm IDC predicted that more businesses will be bringing their operations on-the-go. Mobility will be a key component of enterprise services and applications, as mobile devices become part of mainstream business tools.
Vicky Agorrilla, Country General Manager, Lenovo Philippines said, "Tablets are another growing trend in enterprise mobility. Our ThinkPad Tablet is for the on-the-go-business professional and it is the first real business tablet to address security, durability and manageability."
Powered by NVIDIA Tegra 2 dual-core mobile processor, the ThinkPad Tablet offers a 10.1" WXGA (1280×800) display, which is already IPS  for a 178-degree viewing angle. The display's glass is also scratch-resistant Corning Gorilla Glass.  It weighs 0.75 kg, which is a bit on the heavy side compared to commercial tablets.
As a business tool, TheThinkPad Tablet already comes preloaded with a full version of Documents to Go app by DataViz.
And with the digitizer pen, users can perform capacitive touchscreen functions such as open, click, drag, swipe, etc. with more precise controls than what one's finger can give. Or they can jot down notes that automatically convert to digital text through preloaded apps like FlexT9 and Notes Mobile.
The tablet comes with an optional keyboard dock called the Keyboard Folio to allow users comfortable and accurate typing and mouse control.