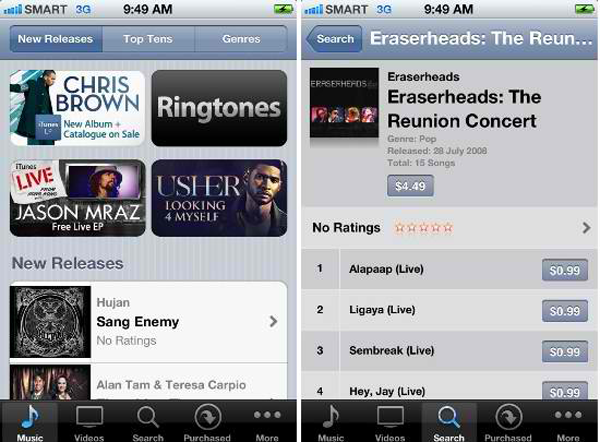 Subscribers of wireless leader Smart Communications, Inc. using their iPhone or iPad now have access to millions of songs and movies, as Apple recently announced the launch of the iTunes Store in the Philippines.
According to Smart broadband and mobile marketing head Mellissa Limcaoco, Smart shares the excitement of Filipino iTunes users and looks forward to serving their connectivity needs.
"With our nationwidest, high-speed mobile broadband network powering their device, iTunes lovers have access to the store wherever and whenever they please," said Limcaoco.
Using iTunes, Smart subscribers can choose from over 20 million songs, including hits by Filipino artists, among them the Eraserheads, Christian Bautista, Parokya ni Edgar, and Charice. Smart subscribers can also rent or buy movies from the iTunes Store, many of them available in high-definition (HD). All they need is a valid credit card for payment.
The iTunes app is available as a free download from apple.com/asia/itunes and comes preloaded on every Apple device.
The latest, most advanced Apple devices are available from Smart, bundled with data plans. The iPhone 4S – dubbed the "most amazing iPhone" — is free at Plan 2499, while the iPhone 4 is free with an Unli Data Plan 2000, and the iPhone 3GS is on a limited 'Piso Sale' when bundled with an All-In Plan 1200 (until July 10).
The new iPad, meanwhile, works flawlessly and delivers high-speed connectivity when powered by a Smart Rocket WiFi or a Smart WiFi Plug-It broadband device.
"As these amazing iPhones and iPads and increasingly relevant apps such as the iTunes Store become more and more popular in the Philippines, so will more Filipino users discover that to truly 'live more' and maximize the features of all these great devices and services, they must be on a strong and reliable network," added Limcaoco.
Smart has the widest HSPA+ network in the country, ensuring coverage in most places, and is the only telco in the Philippines with a dual band 4G/HSPA+ network – which gives mobile devices better signal reception, faster connection speeds, and better battery life.