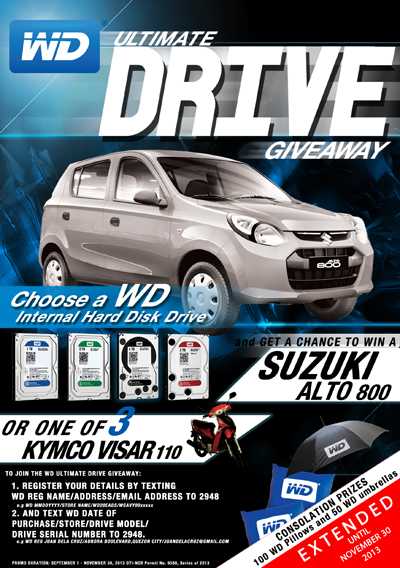 WD in the Philippines has launched the WD Ultimate Drive Giveaway Promo, which will raffle off a brand new Suzuki Alto 800 as a top prize to a lucky winner.
Consumers who purchase any of WD Internal drives WD Blue, WD Green, WD Black and WD Red in participating dealers/resellers can join the promo.
Interested participants may register by following this SMS format: WD_REG_NAME/ADDRESS/EMAIL ADDRESS and send to 2948.
Followed by this SMS format to submit their entries: WD_DATE OF PURCHASE/STORE/DRIVE MODEL/DRIVE SERIAL NUMBER and send to 2948
The number of entries a participant get depends on the WD internal drive model purchased:
WD INTERNAL DRIVE MODEL    NUMBER OF TICKETS
WD 500GB (all colors) 1 ticket
WD 1TB (all colors)  2 tickets
WD 2TB (all colors)  2 tickets
WD 3 and 4TB (all colors)  3 tickets
Apart from the brand new Suzuki Alto 800 for the grand prize winner, three (3) Kymco Visar 110 motorcycles for three (3) minor winners, and WD pillows and umbrellas for consolation prizes will be given away.
This promo runs from September 1 to November 30, 2013.
Per DTI-NCR Permit No. 9588, Series of 2013.
For more details, check outp: http://wdthepowerofchoice.com/promotions_and_events/full_details/62