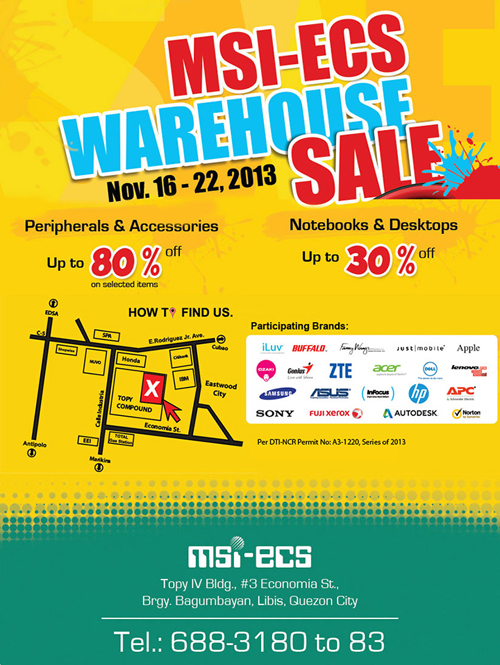 The anticipated MSI-ECS Warehouse Sale will be happening November 16-22 at MSI-ECS office on #3 Economia Street, Bgy. Bagumbayahn, Libis, Quezon City.
The 7-day sale promises from 30 percent up to 80 percent discounts on PCs, notebooks, mobile phones, tablets, accessories, back-ups, servers and a lot more.
Just pick your favorite brand as MSI-ECS, which is the largest IT products distributor in the country, has almost all of the tech brands under one roof: Lenovo, Sony, Samsung, Asus, ZTE, Acer, HP, Fuji Xerox, Apple, Ozaki, Geniue, Buffalo, Fanny Wang, Just Mobile, APC, Autodesk, Norton, and iLuv.
If you want a new gadget or planning on buying one as a gift to someone this Christmas, then this is the opportunity to spend less for more.
By the way, major credit cards are accepted, which is really good news!
Price list is below:
Notebooks
MSI-ECS-2013-warehouse-sale-price list.pdf
iPad and tablets:
2013 WSALE PL-ipad-tablets.pdf
Desktops and monitors:
printers:


Projectors:


Accessories:
For the complete price list, download it from here: MSI-ECS website