The new Apacer AH173 OTG (On-The-Go) mobile flash drive features dual interfaces, a built-in USB and Micro USB interfaces, allowing you to use it in both PC and smartphone or tablet.
So buying third party adaptors to transform a micro USB to a full sized USB is no longer required. With this feature, it makes transferring files from smartphone to a PC or vice versa effortless.


The Apacer AH173 OTG has a maximum capacity of 32 GB, which makes it a storage solution you can bring with you wherever you are. With that space, you can put video, audio and large presentation files in it.
It also features an ultra-thin zinc alloy body and a slim portable design (pen cap design). Measuring only 0.6 thick, it can easily be attached to cell phones and key chains as well as stored in your wallet and card case.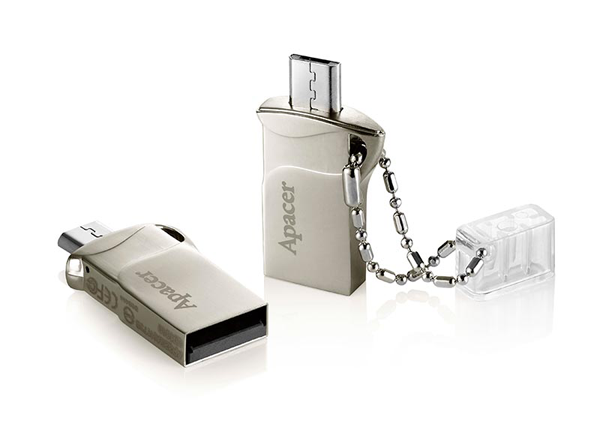 The Apacer AH173 mobile flash drive implements innovative built-in MicroUSB and USB dual-interfaces. The front-end MicroUSB allows the connection with smartphones and tablets with OTG functionality to expand storage space.
To connect with various PC devices, the flash drive also has the standard USB plug on the back.
The Apacer AH173 OTG mobile flash drive comes in three capacities–8GB, 16GB, and 32GB.