Finally, somebody did think about coming out with this very useful product.
SSD and memory module maker Apacer has released the AM700, the first multi-function card reader equipped with OTG or on-the-go technology.
The AM700 card reader is the solution many people are looking for or anticipating to bridge that gap between peripherals such as storage modules (SD and external hard drives) and smartphones/tablets.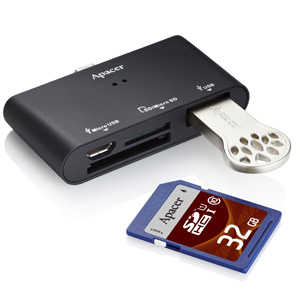 The AM700 card reader allows the access, transmission, and storing of data in real time from your smartphone to an external storage, for example, a big capacity SD card or a portable hard drive, without the need of a PC.
The product is plug-and-play. Just attach it to your smartphone (see the illustration/diagram above) and connect a portable storage (external hard drive) and you can transfer (back-up) all the files that's been crowding inside your phone.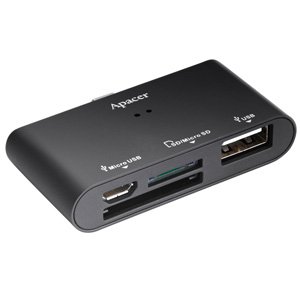 The built-in USB slot of the AM700 further extends the application scope of mobile devices. For example, you can attach a keyboard (USB keyboard) to your smartphone or tablet using AM700 and enjoy the comfort of typing on a full keyboard. This is really a solution for people who use their smartphones as a word processor to type long reports.
In addition to connecting to flash drives and all-in-one card readers, it can even expand the storage space of smartphones and tablet PCs for data backup when inserting SD, MicroSD and MMC cards.
Multiparty data sharing is also available by activating the USB Hub when connected to a power supply, such as the charger and the mobile power supply through the micro USB slot.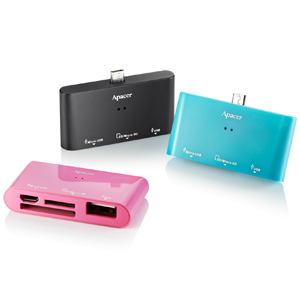 The AM700 is the best way to share your digital content anytime and anywhere. For example, when traveling, you simply have to connect the smartphone directly to the AM700 and access the image files in the memory card of the digital camera.
Then you can send those photos to Facebook, Twitter, Google+ and other social networking sites through the Internet function of the mobile phone and instantly share the beautiful scenery and joyful moments with your friends.