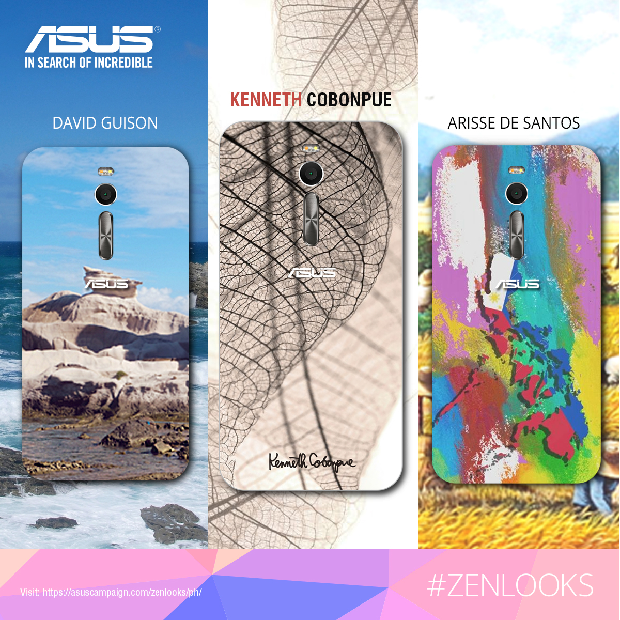 ASUS Philippines teams up with world-renowned industrial designer Kenneth Cobonpue and style authorities David Guison and Arisse de Santos for a regional competition #Zenlooks that offers Filipinos the one-of-a-kind chance to be the designer of their own ZenFone 2 case.
#Zenlooks is a competition inviting individuals to submit an original case design for the ZenFone 2 inspired by the Philippines' national colors.
Cobonpue, Guison and De Santos already made designs for the Zenfone 2 to amplify the competition and to inspire others to join the competition.
Cobonpue focuses his attention on the shades and shapes of nature as his design inspirations, while Guison pays tribute to one of Ilocos Norte's most scenic spots.
Lifestyle blogger De Santos harnessed her love for watercolors in her ZenFone 2 case design.
Admitting his personal affinity for the ZenFone 2, Coponpue says: "#ZenLooks is consistent with my personal advocacy of creating original and unique designs while promoting local culture. It's a collaborative effort between the ASUS team and aspiring artists to produce an art piece inspired by the Philippine's iconic elements."
Guison pays tribute to one of Ilocos Norte's most scenic spots
As his way of reminding himself that the Philippines has so much to offer in terms of beauty and travel experiences,
Guison's design particularly focused on the Kapupurawan rock formation in Ilocos Norte. A travel enthusiast himself, he reveals, "I always feel the need to document everything, so this image is a note to myself that there are 7,107 islands in the Philippines to explore."
De Santos says "#ZenLooks is a great springboard for Filipinos to showcase their skills and creativity. It also doesn't hurt that they're encouraged to do this with the ZenFone 2, which is classy and sleek and can match any personality or mood."
Following a global introduction that launched an exciting design partnership with Italian vlogger and YouTube personality Marzia Bisognin (better known as her handle "CutiePieMarzia"), #ZenLooks likewise took off with a regional prelude highlighting a collaboration with Filipina-British fashion icon Kim Jones, which saw the popular blogger and style connoisseur going on a whirlwind 7-photo sartorial journey across seven countries in Southeast Asia in seven days to unravel the region's ultimate fashion story using the ZenFone 2.
To date, the competition has already received 4,000 case design submission from the Philippines.
"We have always experienced great support from Filipinos every time we launch global and regional campaigns, and this is certainly no different. It's a great testament of how we as a people are passionate about being part of a creative movement," according to ASUS Philippnes marketing manager Jamie Zaldivar.
There's just 2 weeks remaining before the competition comes to a close.
Prizes for the winners will include a ZenFone 2 deluxe (worth Php17,995) and the limited edition case designed by CutiePieMarzia for weekly winners. The Grand Winner, the chance to collaborate with the ASUS design team to have his or her winning case design manufactured.
Zaldivar says: "We hope that Kenneth, David, and Arisse's designs will inspire other Filipinos to keep the entries coming. We are so excited to have these three onboard as together, they represent and advocate the best of Filipino design, style, and culture, culled from their individual perspectives and experiences."
Deadline for submission for the #ZenLooks design challenge is December 6. To join and create your entry, visit the #ZenLooks Facebook Application at https://asuscampaign.com/zenlooks/ph/.