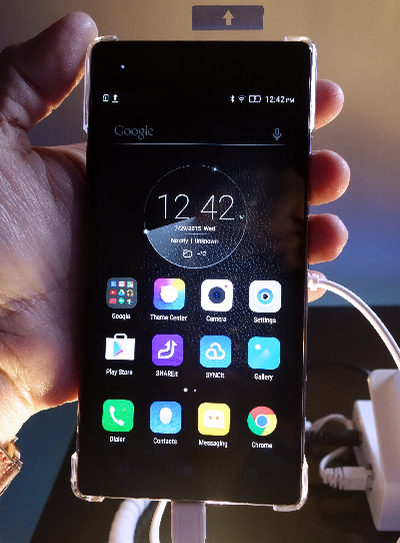 You may now find Lenovo's new flagship camera smartphone the VIBE Shot selling at retail stores nationwide. The camera smartphone powered by a Qualcomm snapdragon processor retails for Php17,999 and its purchase comes with a free back cover (valued at Php699) and screen protector (valued at Php299).
The VIBE Shot, launched on July 29 and started selling at online Lazada, is positioned as a "premium camera smartphone," and as such it may interest consumers who have eye for photography.
As a camera smartphone, the VIBE Shot boasts of key features such as dedicated shutter button (to activate camera function en pronto), a tri-color LED flash (the world's first for smartphones according to Lenovo), and an easy switch to toggle between the camera's Auto and Pro modes.
Lenovo's newest smartphone is part of the company's VIBE On campaign, which aims to empower individuals to go their own way by providing smartphones with the latest technology and features that they care about, at a price they wouldn't expect.
With 5.0" full HD display, the VIBE Shot looks stylish with its full aluminum outer frame and front and back Corning Gorilla glass. It also features a powerful Qualcomm Snapdragon 615 processor, an octa-core chip.
The VIBE Shot comes in colors Carmine Red, Graphite Grey, and Pearl White.

Complete specifications of the Lenovo VIBE Shot
Processor:  Qualcomm® Snapdragon™ 615 Octa-Core processor
Operating System: Android 5.0 (Lollipop) operating system
Display/Resolution:  5.0" display with a full-HD resolution IPS display
Color: Carmine Red, Pearl White and Graphite Grey
Memory: 3GB RAM
Storage: 32GB of built-in storage; expandable up to 128GB through a microSD card support
Connectivity: 4G LTE; Dual-band 802.11ac Wi-Fi
Bluetooth: BT 4.1 LE
Camera: 16 MP rear camera with tri-color LED flash, 16:9 BSI sensor and optical image stabilization (OIS) technology
For the latest Lenovo smartphones and tablets news, subscribe to Lenovo RSS feeds or follow Lenovo Mobile on Twitter (http://www.twitter.com/LenovoMobilePH) and Facebook (www.facebook.com/lenovomobileph).