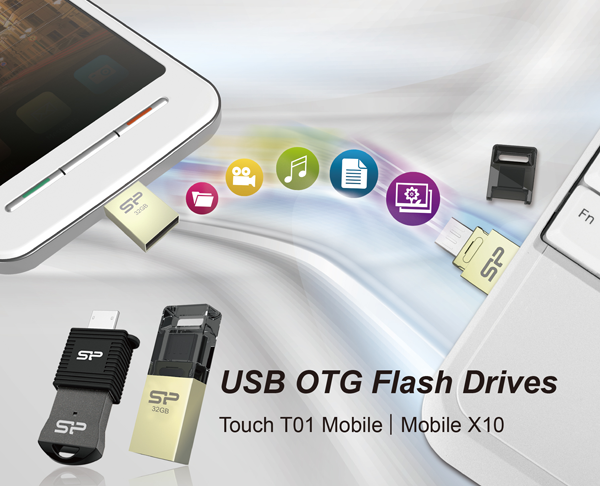 SP/Silicon Power has introduced a new line of USB OTG micro storage for mobile phones.
The Mobile X10 and Touch T01 Mobile are micro USB storages that can extend the storage capacity of Android smartphone and tablets, allowing users to back up or store their personal files on-the-go.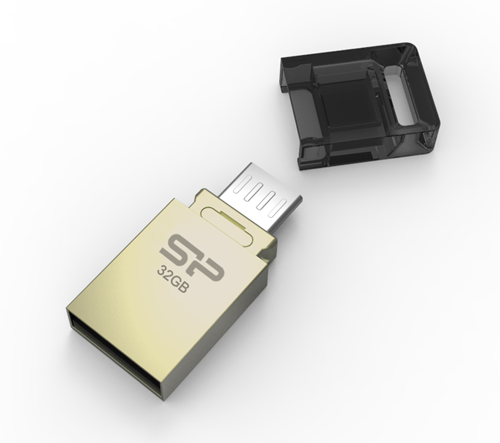 The SP Mobile X10 features built-in dual connectors. It can connect to a smartphone via the micro USB interface as well as to a PC or notebook via the standard USB port.
This 2-in-1 specification enables OTG series to deliver a seamless and spontaneous data transfer to and from multiple devices.
With no additional power supply or cable required, you just simply plug in X10 to OTG supported smartphone or tablet for a full access to your digital data.
It features with the robust zinc alloy case and the compact size.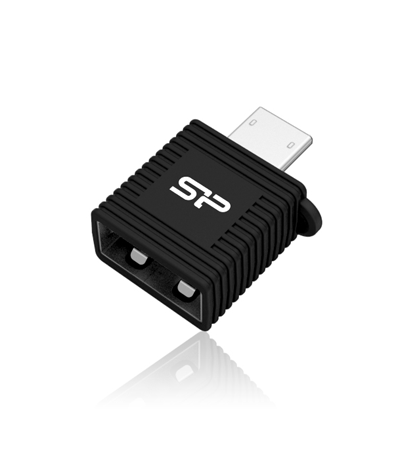 The SP Touch T01 Mobile delivers the perfect combination of flexibility and diversity.
With a push of a thumb, T01 Mobile can be disassembled into two devices–a regular USB flash drive Touch T01 or an OTG Adaptor 110 which is the smallest device in the industry.
This OTG Adaptor is fully compatible with the traditional flash drive, and the multi-functional detachable design enables users to change the flash drive freely.
Incorporated with the COB (Chip On Board) technology, X10 and T01 are water, dust, shock and vibration proof. With the various choices of storage capacity, X10 is available in 8GB, 16GB, and 32GB, and T01 Mobile in 4GB, 8GB, 16GB, and 32GB. X10 and T01 are both covered by a lifetime warranty, and the OTG Adaptor 110 is by one year warranty.
For more information, please visit the SP/Silicon Power website: www.silicon-power.com