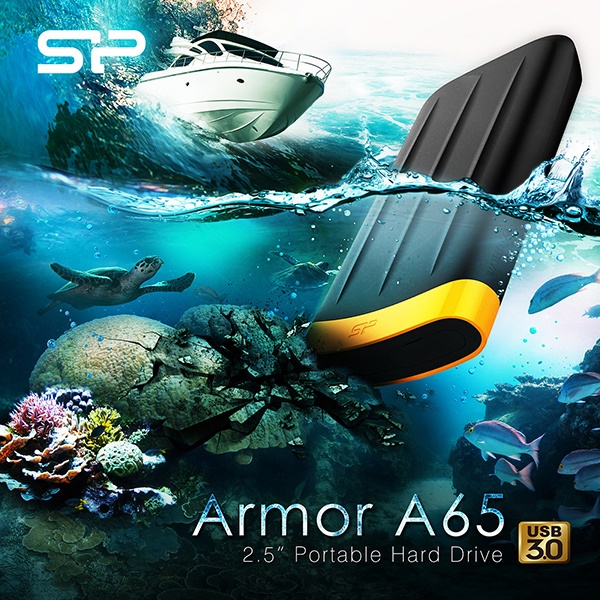 If you're looking for a portable hard drive sturdy enough to bring in an outdoor adventure, then Silicon Power's new Armor 65 may come as the ideal hard drive.
The Armor 65 is the latest  Armor-series USB 3.0 portable hard drive from SP/Silicon Power.  The Armor A65 is completely shockproof, waterproof and dustproof. This portable hard drive passed the U.S. military's drop test and meets the IP67 standard by which it can completely protect against dust penetration and can survive water immersion at depths of up to 1 meter for up to 30-minutes.
The Armor A65 offers three powerful layers of protection, which consists of two layers of rubber and a unibody frame in the middle.
In order to further enhance the safety of your precious data, SP provides a free download of the SP HDD Lock Utility software to encrypt all of the data in the Armor A65.
Whether for travel, outdoor activities or daily work, the Armor A65 will be an ideal storage device along the way.
Apart from the three layer protection, the Armor A65 features an internal suspension system that provides a vibration damping function to reinforce overall stability of the hard drive. The outer rubber cover not only creates a shockproof shell but makes the surface anti-slip and anti-scratch.
The delicate cable storage design, with the cable tucked in and fixed on the back side of the Armor A65, effectively reduces the size and makes it easier to carry. The Armor A65 stands out with its modern streamlined hull design inspired by the flowing lines and curves of a luxury yacht, adding an exceptional touch.
Armor A65 Product Specifications:
Dimensions:143.4 x 86.7 x 20.7 mm
Weight:242~277g (by capacity)
Capacity:500GB、1TB、2TB
Material:Rubber/ Plastic
Color:Black
Interface:USB 3.0 / USB 2.0 compatible
Data transfer rates:Max. 5 Gbps (USB 3.0 Mode); Max. 480 Mbps (USB 2.0 Mode)
Power supply:DC5V (Power supplied through USB)
Supported operating systems:Windows 8.1/8/7/Vista/XP, Linux 2.6.31 or later, Mac OS 10.5 or later
Operating temperature:5℃~ 55℃
Storage temperature:-40℃~ 70℃
Warranty:3 years